How Did Emerging Market Debt Perform in 2016?
In the emerging market bond space (PCY) (EMLC), high-yield bonds and local currency bonds outperformed hard currency sovereign bonds.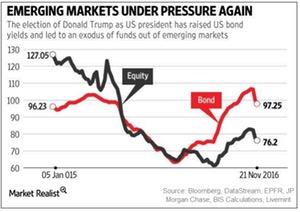 VanEck
USD strength impacts local bonds
Hard currency sovereigns were negatively impacted by a 55 basis points (bps) increase in 10-year U.S. Treasury rates in November, ending the month with a return of -4.1%. Investment grade sovereigns were more impacted than the broader universe due to their longer duration. However, higher quality bonds now also provide an approximately 90 bps pickup versus U.S. investment grade corporate bonds, a significant increase in relative value versus October. High yield emerging markets corporate bonds posted a relatively modest negative return of -1.6% due to a shorter duration than other sectors, and remain a bright spot with year-to-date returns of 14.4%. These gains have been driven equally by the significant carry they provide, as well spreads which have tightened year to date (and which remained steady in November).
Article continues below advertisement
Article continues below advertisement
Market Realist
Strengthening dollar pulled down emerging market bonds
Donald Trump's surprise victory and a Fed rate hike resulted in funds flowing out of emerging markets. The above chart of BIS's (Bank for International Settlements) latest quarterly review shows the same. The BIS quarterly review stated, "The global rise in yields and the strengthening of the dollar weighed on the assets of emerging market economies. Bond outflows and exchange rate depreciation in the post-election week were even larger than at the height of the taper tantrum."
It's expected that Trump's administration will spark a reflationary trend, higher infrastructure spending, and stricter trade policies. Read Has Trump's Win Reinforced a New Market Regime? to learn more. As a result, the ten-year US Treasury yield and the dollar rose. The recent Fed rate hike added fuel to the fire and the dollar strengthened more. It resulted in the decline in emerging market bonds' performance.
Between December 2015 to November 2016, emerging markets bond indices (EMB) (EMAG) (IGEM) showed a negative correlation with the ten-year US Treasury rate. The hard currency sovereign bond fell due to an increase in the ten-year interest rates in November.
In the emerging market bond space (PCY) (EMLC), high-yield bonds and local currency bonds outperformed hard currency sovereign bonds. Despite the sudden fall in emerging bonds' performance, the YTD (year-to-date) returns look promising. As of November 9, 2016, the Bloomberg Barclays Emerging Markets Local Currency Index and the Bloomberg Barclays EM High Yield TR Index rose 14% and 15% YTD. The Bloomberg Barclays Emerging Markets Hard Currency Aggregate Index rose 11%, respectively.
Even though local currency emerging market bonds have performed well this year, recent volatility in some emerging market currencies impacted some local currency bonds. We'll discuss this in the next part.