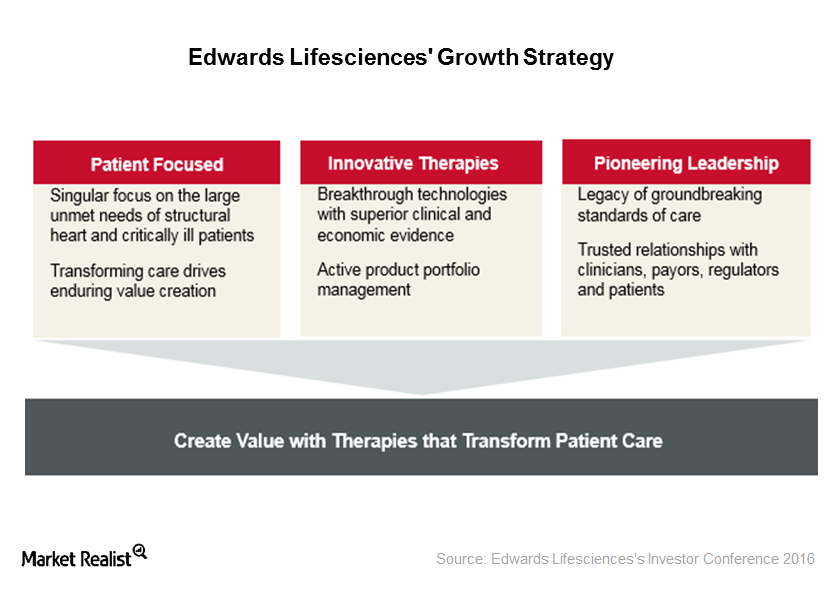 Edwards Lifesciences Sees Growth on Long-Term Growth Strategy
By Sarah Collins

Dec. 15 2016, Updated 5:06 p.m. ET
Long-term growth strategies
Edwards Lifesciences (EW) has established itself as a leader in the artificial heart valves market. The company has produced enormous long-term value over the years through its focused and disciplined investments.
The company follows three key growth strategies: patient focus, innovative therapies, and pioneering leadership. Edwards Lifesciences aims to create value through therapies that enhance and transform care standards for the structural heart and critically ill patients.
Article continues below advertisement
Driven by these strategies, Edwards Lifesciences has grown tremendously over the years and continues to strengthen its market position, as can be seen in some of its recent trends. EW's Sapien 3 THV (transcatheter heart valve) is being rapidly adopted by the industry driven by the excellent outcomes of the product thereby strengthening the company's leadership position in the TAVR market.
However, the growth of SHV (surgical heart valve) is being affected due to the increased demand for TAVR (transcatheter aortic valve replacement) products, but the new product launches are expected to partially offset this negative trend. New products and technologies are helping expand EW's ESR (enhanced surgical recovery) opportunity driving its critical care segment.
Moreover, the company continues to invest heavily in internal R&D (research and development) and have seen excellent progress on its key milestones. The company reported successful FIH (first-in-human) experiences in transseptal CardiAQ, FORMA, PASCAL, and hypotension predictive analytics. Some of these clinical trials are expected to complete in 2017.
Sector-trends impacting Edwards' growth
Edwards Lifesciences believes that the innovation environment in the healthcare industry is improving. Value-based healthcare is the buzz word now driving industry consolidation. Emerging markets are getting stronger and adopting more advanced technologies. Moreover, the upcoming changes in the US administration are believed to be favorable for the healthcare industry.
Such trends are also expected to impact the Edwards peers in the healthcare industry, which include large market players such as Medtronic (MDT), Thermo Fisher Scientific (TMO), and Abbott Laboratories (ABT). Any market event related to the healthcare industry is also expected to trigger movement in healthcare ETFs such as the Vanguard Health Care ETF (VHT).
Next, let's look at EW's TAVR opportunity going ahead.