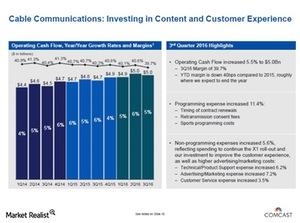 Why Comcast Expects Its Programming Costs to Rise in 2017
By Shirley Pelts

Updated
Comcast's programming costs
Cable companies such as Comcast (CMCSA) have high content costs. These costs are similar to the fixed costs incurred by media networks such as The Walt Disney Company (DIS) and Viacom (VIAB).
However, as distributors, cable companies have additional infrastructure investments compared to content providers and aggregators. Content costs account for much of a cable company's operating costs.
Comcast expects its programming costs to be slightly above 10% in 2016 as a result of higher retransmission consent fees and increased costs for sports programming. Comcast's programming costs rose 11.4% in 3Q16 because of programming contract renewals.
The company was asked at the UBS Global Media and Communications Conference earlier in December whether it expected its programming expenses to be high in 2017 and beyond or whether it expected them to fall in 2018.
Article continues below advertisement
Reasoning behind Comcast's rising programming expenses
The company explained the reasons behind its high programming costs by stating that on the Comcast Cable side, the company has been focused on strengthening its margins, but at the same time, it's continued to introduce new products, including Xfinity Home. The company's rollout of the X1 set-top box and better customer service has also meant higher operating costs.
However, Comcast still believes that beyond 2017, its programming costs should normalize.