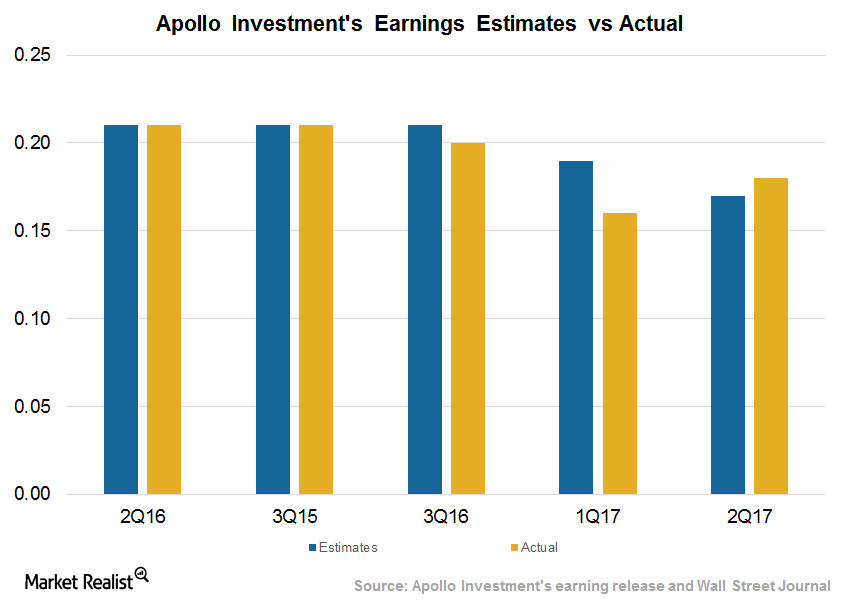 Apollo Investment Improved Bottom Line on Select Investments
Signs of stabilization
Over the past few quarters, Apollo Investment (AINV) has seen exits from investments, restructuring modes, and deployment of funds in safer securities. The company has exited investments and continued with that practice in fiscal 2Q17. It posted earnings per share (or EPS) of $0.18 in fiscal 2Q17, compared to analyst estimates of $0.17.
Sequentially, the net investment income per share rose to $0.18, compared to $0.16 for the previous quarter. This increase reflected improved broad markets, the result of an expected federal rate hike. The Federal Reserve increased rates in 4Q16, which could positively impact Apollo Investment's deployments in 2017 and result in higher interest income.
Article continues below advertisement
Apollo's net asset value also rose sequentially to $6.95, compared to $6.90 on June 30, 2016. The company's valuations have been negatively impacted due to investments in the energy space (USO). However, the company's exposure to oil and gas has declined over the past few quarters and now stands at less than 10%, reflecting lower weight.
Below are some of Apollo Investment's peers in investment management and how they performed with their quarterly earnings:
Ares Capital (ARCC): beat estimates
BlackRock Capital (BKCC): missed estimates
Prospect Capital (PSEC): missed estimates.
Together, these companies form 2.5% of the PowerShares Global Listed Private Equity ETF (PSP).
Closed-end fund
Apollo Investment Corp. (AINV) is a closed-end investment company providing debt and equity financing solutions to US middle-market companies. The debt investments include secured and unsecured funding. The company acts as a closed-end fund and is regulated as a business development company. Its objective is to generate current income and capital appreciation through debt and equity investments.
Apollo Investment Corp. is operated and managed by Apollo Investment Management, LP, an affiliate of Apollo Global Management, LLC (APO), a global alternative investment manager.
In this series, we'll study Apollo Investment's performance, yields, capital deployment, portfolio, dividends, and valuations.