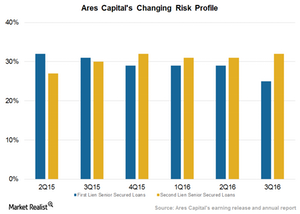 Apollo, BlackRock Target Less Risk, Unlike Ares, Prospect
Changing composition
Over the past few years, closed-end funds (PSP) have deployed funds in middle market companies with better credit ratings. However, over the past few quarters, as yields have fallen and competition for quality paper has risen, these companies have been looking at low-grade investments, structured funding options, and retail and housing lending to garner better yields.
For example, Ares Capital (ARCC) has consistently enhanced its exposure to second lien senior secured debt. In 3Q16, the company's second lien debt made up 23% of its new commitments compared to exits of 18%. The second lien portfolio represents 32% of the company's total portfolio. First lien senior secured loans represent 25% of its portfolio, compared to 29% in the previous quarter, reflecting consistently low holdings.
Apollo Investment
On the other hand, Apollo Investment (AINV) is seeking a lower risk profile investment in a bid to provide a stable and sustainable returns to shareholders. The company is investing a portion of its portfolio in traditional corporate loans, primarily on a floating rate sourced directly from the Apollo platform.
Apollo continues to deal with loss-making investments and positions taken over the past couple of years. The company's management expects the situation to stabilize in the upcoming few quarters before profits can rise substantially from their existing levels.
Prospect Capital's strategies
Prospect Capital (PSEC) targets lending through the online industry. The company diversifies risk by investing in near-prime, prime, and subprime consumers and small business borrowers. PSEC generated 20% of its origination through online lending in 3Q16.
During 2014, Prospect entered the online lending industry jointly with NPRC (National Property REIT Corporation). The company's total business currently stands at ~$577 million across securitization interests, loans, and underwriting platforms.
BlackRock Capital (BKCC) is investing primarily in traditional corporate debt investments with marginally higher risk.
In the next article, we'll study how closed-end companies have been using varying degrees of leverage.
Article continues below advertisement