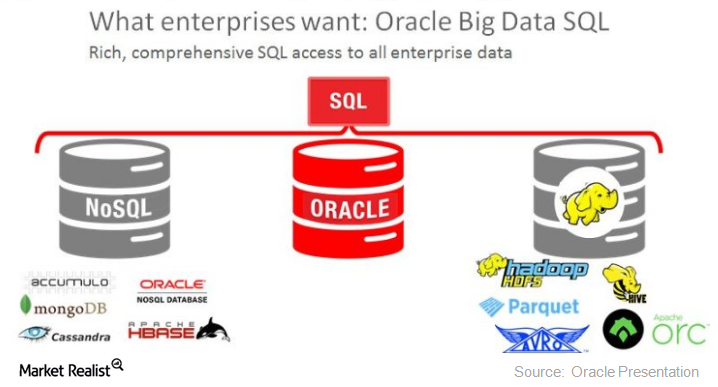 A Closer Look into Oracle's Big Data Role in DBMS
Does Big Data pose a big threat to Oracle?
A slowdown in RDBMS (relational database management systems) was reflected in Oracle's (ORCL) new software licenses, which continued to fall in fiscal 1Q17 by 11% to ~$1.03 billion. On a constant currency basis, this was a 10% decline. New license sales hold special importance on an industry level because they're considered a barometer for customer demand for their databases and other business applications.
Article continues below advertisement
Article continues below advertisement
Commenting on the threat Oracle faces in DBMS space, Curt Monash, an independent analyst, said, "There are basically three things that can seriously threaten Oracle's market position," the first of which is "growth in apps of the sort for which Oracle's RDBMS is not well-suited…Much of big data fits that description."
Meanwhile, the SMAC (social, mobile, analytics, and cloud) revolution has led to tremendous growth in unstructured data like audio, video files or big data. Although Oracle has been singled out, big data is a concern for all the leading players.
Oracle's Big Data SQL 3.0
It's this big data and increasing adoption of Hadoop and NoSQL that made Oracle announce a new offering, Big Data SQL 3.0, in 2016. Big Data SQL 3.0 supports Hadoop platforms like Cloudera CDH and Hortonworks HDP. Enterprise tech, citing a recent Allied Market Research report, stated that Hadoop is expected to become a $84.6-billion market by 2021, growing at a compound annual growth rate of 63.4%.
Notably, Hortonworks, Cloudera, and Mark Logic were all identified as leaders in the Hadoop market that "have focused on [the] development of advanced, Hadoop-based data storage, management, and analytics solutions to cater to the customized requirements of business enterprises."