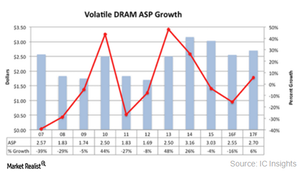 How Might the Inotera Acquisition Impact Micron's DRAM Earnings?
Inotera acquisition's impact on Micron's earnings
Micron Technology (MU) will have to raise ~$2.5 billion to fund its joint venture (EWT) acquisition of Inotera, and this move will add to its already high leverage. But Inotera's debt-to-equity ratio of 12% is lower than Micron's ratio of 82%, and so together, the merged entity would have a ratio of 79%.
Micron will also buy the complete output of Inotera, and in fiscal 2015, Inotera earned $600 million in operating income on revenues of about $1.9 billion, which it earned from Micron. After the acquisition, this $600 million would be accounted in Micron's earnings as cost savings from the deal. As both Micron and Inotera are pure-play memory suppliers, more cost synergies would be realized, and any overlapping costs would be reduced.
But while the Inotera acquisition will bring in operational efficiencies and cost benefits, it will also increase Micron's exposure to the volatile DRAM (dynamic random access memory) market. The highly cyclical nature of the DRAM market makes forecasting difficult.
Article continues below advertisement
DRAM market trend
Over the years, the DRAM market has undergone three major downturns, which have led to consolidation across the industry. This left the DRAM market with only three major players: Samsung (SSNLF), SK Hynix, and Micron. In such an oligopolistic market, the three players have decided to coexist in order to maximize their profits.
For this reason, Samsung and SK Hynix stopped DRAM production in mid-2016, after DRAM oversupply reduced their margins and pushed Micron into the red. Samsung converted its Line 16 facility from DRAM to NAND, lowering the industry supply by around 5%.
Meanwhile, the rise in seasonal demand and supply constraints have started to show their impact on the DRAM prices, which took an upward path in October and November 2016. So things are looking brighter for DRAM in 2017.
DRAM market forecast
Gartner expects worldwide PC shipments to rise 4% YoY (year-over-year) in 2017, which would increase the demand for DRAM. Memory content per PC would also rise further, increasing DRAM demand.
On the supply front, Micron expects DRAM supply to grow in the mid-teens in 2017, due to the throughput lost in the transition from 20 nm (nanometer) to 1X nm. The company expects supply growth to improve to the high teens as 1X DRAM replaces its 20 nm DRAM. On the demand side, the company expects demand to grow in the low- to mid-20% range over the long term.
Now let's discuss Micron's NAND business in more detail.