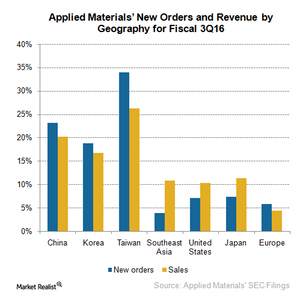 How Will Donald Trump's Victory Impact AMAT?
Geographic outreach of AMAT
In the past few parts of the series, we saw how different end markets are impacting Applied Materials' (AMAT) earnings. Now, we'll see how different geographies could impact AMAT's earnings.
AMAT is the world's largest manufacturer of SME (semiconductor manufacturing equipment) and supplies to chipmakers around the world. China's (MCHI) decision to become self-sufficient in the semiconductor manufacturing space has made the country AMAT's key growth driver.
Article continues below advertisement
Taiwan
As seen from the above graph, Taiwan (EWT) and China accounted for 57% of AMAT's orders and 47% of its sales in fiscal 3Q16. The company's orders from Taiwan rose 50% YoY (year-over-year) in fiscal 3Q16, as TSMC (TSM) is transitioning to the 10-nm (nanometer) node.
The foundry stated that it would start production on the 10-nm node by the end of 2016. This means AMAT's revenue from Taiwan could increase in fiscal 4Q16 and 1Q17.
China
While Taiwan is still safe, a bigger concern is looming around China, which is among AMAT's fastest-growing markets. In fiscal 3Q16, revenue from China rose 89% YoY and new orders rose 92% YoY. China has become AMAT's second-largest market, accounting for 20% of the company's revenue.
AMAT could report strong revenue growth in China in fiscal 4Q16. However, this growth may not survive in the longer term as the United States election results bring bad news for the tech space. Donald Trump advocates a tighter limit on trade, especially from China.
Article continues below advertisement
China is the largest market for the semiconductor industry, and any restrictions to trade with China could further stress the earnings of companies having high exposure to Asian countries. The announcement of election results on November 9, 2016, saw AMAT's stock fall 3% by mid-day and then recover slightly.
Korea
The company saw 97% YoY growth in new orders in its third-largest market, South Korea, in fiscal 3Q16, as Samsung (SSNLF) is transitioning to its 10-nm node and 3D NAND technology.
In October 2016, Samsung claimed that it has started mass production of 10-nm, which means AMAT would report strong revenue growth from Korea in fiscal 4Q16. However, the transition to 3D NAND is ongoing, and this may reflect in AMAT's future earnings.
Next, we'll look at the company's balance sheet and understand its financial health.