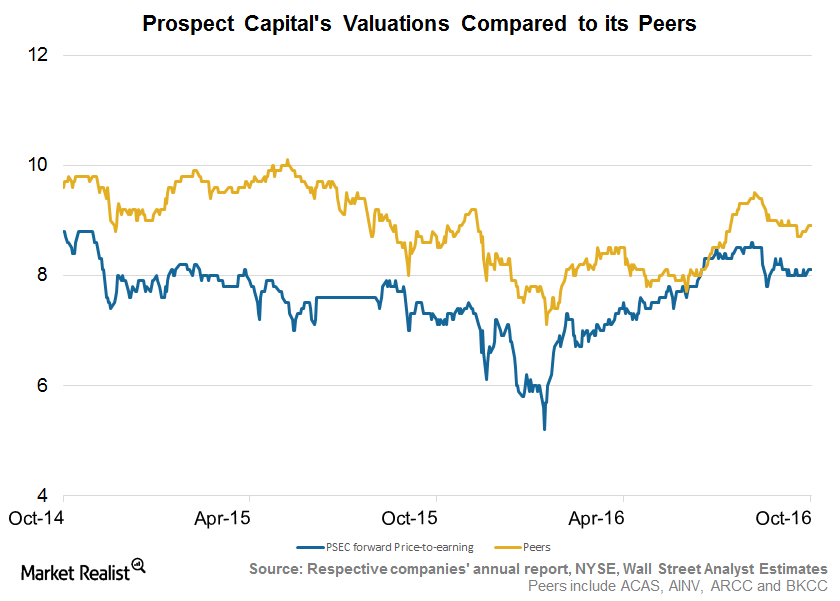 Prospect Valuations Fair amid Rising Originations, Strong Yields
Originations key
Prospect Capital's (PSEC) stock fell ~7% in fiscal 1Q17 (September quarter) but has risen ~6% in the past 12 months. The company is currently trading 11% lower than its 52-week high.
The company saw higher origination in fiscal 1Q17 after seeing consistent net exits over the past few quarters. Its interest and other income are expected to rise as the company deploys more capital toward new investments.
In fiscal 1Q17, Prospect generated distributable income of $77 million, or $0.22, on a per-share basis. In fiscal 2016, Prospect generated earnings of $1.07 per share, as compared to its dividends of $1 per share.
Prospect's ~12.9% dividend yield is the highest among its investment management peers. Here's how some of its competitors' dividend yields compare:
Together, these companies make up 4.5% of the PowerShares Global Listed Private Equity ETF (PSP).
In fiscal 2016, Prospect purchased $34 million of its own shares at an average price of $7.25, which is higher than the current market price.
Article continues below advertisement
Article continues below advertisement
Valuation weakens
Prospect Capital is currently trading at 7.5x on a one-year forward earnings basis. Its peers are trading at an average of 8.1x. Prospect's valuation gap has risen over the last quarter due to a pullback in its stock, mainly due to a weak operating performance. In fiscal 1Q17, its yields fell marginally, but its net originations turned positive.
Prospect has managed higher yields, reflecting the success of its fund deployment through multiple strategies. The company's major profitability trigger could be higher originations across its targeted asset classes and select liquidations of equity stakes.
Over the past few quarters, yields on debt investments have remained subdued due to loose monetary and fiscal policies, mainly in the United States, Europe, and Japan. However, Prospect's stock appears to be correctly valued amid improving originations, higher yields, and maintained leverage.
For related analysis, check out Market Realist's Financials page.