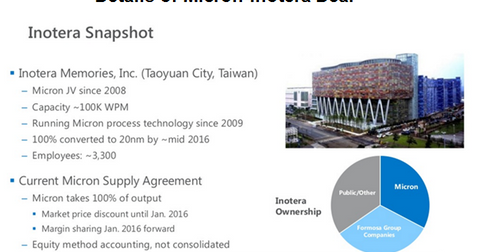 What You Need to Know About the Micron-Inotera Deal
By Puja Tayal

Updated
Inotera joint venture
A major part of Micron Technology's (MU) transition to the 20 nm node involves Taiwan's (EWT) Inotera and its joint venture with Nanya Technology. Micron buys 100% DRAM (dynamic random access memory) output of Inotera, which equates to 35% of Micron's DRAM output.
In December 2015, Micron announced plans to raise its stake in Inotera from 33% to 100% for a consideration of $3.2 billion. While this may significantly reduce DRAM cost per bit, it would increase Micron's exposure in the DRAM market.
Market fundamentals are good for DRAM right now. But things may reverse if Samsung (SSNLF) or SK Hynix decide to start DRAM production again. Such a scenario seems unlikely in the short term, however, as the two companies have allotted their resources on NAND production.
Article continues below advertisement
Why was the Micron-Inotera deal delayed?
The Inotera acquisition was going to be completed by mid-July 2016, but falling DRAM prices saw Inotera report a loss of $28.1 million in fiscal 1Q16—its first loss in three years. This made the deal less attractive. In fiscal 2Q16, Inotera's revenue improved, bringing heat back into the deal.
Micron now expects to complete the acquisition in early December 2016 and to fund the deal by raising about $2.5 billion in new debt. After the acquisition, Inotera would become a wholly owned subsidiary of Micron Semiconductor Taiwan.
What's in it for Nanya?
Under the deal, Nanya will receive cash, of which it would use up to $1 billion to buy 5% stake in Micron at $17.29 per share. Apart from cash and Micron's stocks, Nanya would also obtain the license to use Micron's 1x and 1y DRAM technologies.
Nanya stated that its current focus is on completing the transition from 30 nm to 20 nm by 1H17. Even if Nanya exercises its option, it would not use Micron's advanced DRAM technology before 2H17.
China: a better bidder for Micron's stake?
Micron can get a better price for its 5% stake from China's (FXI) Tsinghua Unigroup. If the latter bought 5% stake of Micron at the current price of $20, Micron would get $1.2 billion. But any acquisition of US company by a Chinese company is subject to scrutiny—particularly with Donald Trump as US President.
Continue to the next part for a look at how Inotera's acquisition could impact Micron's earnings.