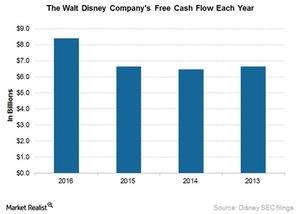 Disney's Key Financial Metrics: Let's Take a Look
By Shirley Pelts

Updated
Share buybacks and fiscal 2017 outlook
In fiscal 2017, The Walt Disney Company (DIS) expects currency fluctuations and rise in pension expenses to negatively impact the company by around $175 million. The company also stated during its fiscal 2016 earnings call that its interest expense of $100 million in fiscal 4Q16 indicated "a reasonable quarterly run rate for the year."
Disney also expects to buy back shares in the range of $7 billion to $8 billion in fiscal 2017. Disney's management further stated at its fiscal 2016 earnings call, "And I think you know we have a very balanced approach to addressing return of capital to shareholders. We also consider dividends, but that's after we invest in our businesses and look at other growth opportunities." In fiscal 2016, Disney bought back shares of $7.5 billion.
At the end of fiscal 2016, Disney had a total leverage ratio of 1.1x.
Article continues below advertisement
Disney's financial metrics in fiscal 2016
In fiscal 2016, Disney recorded operating cash flows of $13.2 billion, up 21% year-over-year. The rise in operating cash flows was mainly driven by Disney's Studio Entertainment and Parks & Resorts business. Another factor driving up Disney's operating cash flows was low taxes. As the chart above shows, Disney recorded free cash flows of $8.4 billion in fiscal 2016, up 27% year-over-year.