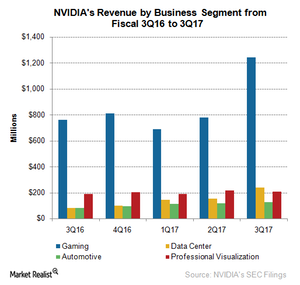 What Is Fueling Nvidia's Record-Breaking Earnings?
Fiscal 3Q17: A record quarter for Nvidia
Making new highs has become a habit for Nvidia (NVDA), the world's largest GPU (graphics processing unit) supplier. Fiscal 3Q17[1. quarter ended October 30, 2016] was the first full quarter that reflected Nvidia's Pascal GPU sales. The company reported record-high revenue growth in its Gaming segment, which crossed the $1 billion mark for the first time.
Nvidia's (NVDA) Data Center segment surpassed Professional Visualization to become the company's second-largest segment by revenue. The company's non-GAAP[1. generally accepted accounting principles] operating margin crossed 40% for the first time, and its earnings per share more than doubled sequentially—its highest growth reported to date.
The company also reported a strong outlook for fiscal 4Q17. Such strong earnings boosted Nvidia stock 30%, or $20, in just one day.
Article continues below advertisement
Article continues below advertisement
What pushed Nvidia's fiscal 3Q17 earnings to a record high?
Nvidia's (NVDA) fiscal 3Q17 performance was fueled by the launch of its revolutionary Pascal GPU. The timing of the launch was in sync with the launch of several AAA games that demanded better graphics and the emergence of VR (virtual reality). Moreover, Nvidia's notebook GPUs performance was on par with the performance of its desktop GPUs.
Rival Advanced Micro Devices (AMD) launched the Polaris GPU, but its performance did not measure up to Pascal. AMD launched these GPUs for $199 in order to target mainstream customers. In response, Nvidia launched a cheaper version of its Pascal GPUs that helped it win orders from mainstream customers as well.
Instead of losing market share from AMD, Nvidia regained some market share. The two rivals reported contrasting earnings. While Nvidia posted record-high revenue and profits, AMD reported losses in the GPU segment despite revenue growth.
Nvidia makes new strides in artificial intelligence
Nvidia's record-breaking earnings were immediately followed by the SC16 (Supercomputing Conference 2016) on November 18, 2016. At the conference, Nvidia announced its partnership with Microsoft (MSFT) and IBM (IBM) in the field of AI (artificial intelligence).
Nvidia also unveiled the world's most energy-efficient supercomputer, DGX SaturnV. This sent the company's stock to an all-time high of $94.79 on November 17, 2016.
Many analysts are bullish about Nvidia and believe the stock has more upside potential, whereas some analysts are cautious and expect the stock to pull back.
In this series, we'll look at Nvidia's growth catalysts and their impact on the company's current and future earnings.