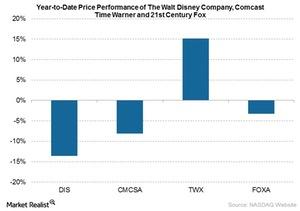 What Factors Could Be Impacting Disney's Stock?
Fall in Disney's stock price
On November 2, 2016, The Walt Disney Company's (DIS) stock closed at $92.39. The company's stock price has fallen 13.6% year-to-date (or YTD) and 3.3% in the past three months.
In contrast, the stock price of media company Comcast (CMCSA) has fallen 8.1%, while Time Warner's (TWX) stock price has risen 15.2%. 21st Century Fox's (FOXA) stock price has fallen 3.3% YTD. Disney is expected to announce its fiscal 4Q16 results on November 10, 2016.
Article continues below advertisement
Factors that could be affecting Disney's performance
Disney announced EPS (earnings per share) of $1.62 in fiscal 3Q16, a rise of 12% over fiscal 3Q15. Disney's EPS in fiscal 3Q16 were in line with Wall Street analysts' consensus estimate of $1.61. Disney had revenue of $14.2 billion in fiscal 3Q16, a rise of 9% year-over-year.
However, Disney's ESPN continues to be a worry for investors. Falling NFL (National Football League) ratings and Nielsen's subscriber numbers for ESPN don't paint a rosy picture for ESPN.
Another factor that could be a worry for Disney is AT&T's (T) proposed acquisition of Time Warner (TWX), which could threaten Disney's dominance in the media industry. We've discussed how this acquisition could shake up the media industry in previous series.
In this series
In this series, we'll discuss the key factors that are likely to drive Disney's growth in fiscal 4Q16. We'll also look at how analysts are rating Disney before its earnings release, and the valuation metrics for the company.