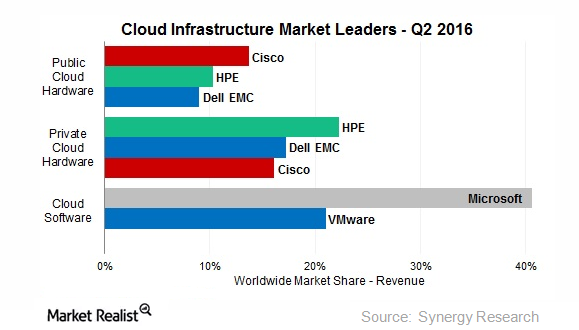 How the Dell-EMC Merger Could Benefit VMware in the Cloud
Dell powered by EMC is challenging dominance in the cloud hardware space
Earlier in the series, we learned about changes in VMware (VMW) after EMC's (EMC) acquisition by Dell. We also know that the acquisition of EMC strengthened Dell's position in the server, storage, virtualization, cloud, PC (personal computer), and big data spaces.
According to a Synergy Research Group report, Dell Technologies, which formed after the EMC acquisition, is posing a serious threat to Hewlett Packard Enterprise (HPE), Cisco (CSCO), and Microsoft (MSFT) in "private cloud hardware, public cloud hardware and cloud infrastructure software respectively," as you can see in the graph below.
Article continues below advertisement
HPE led overall cloud hardware space, but Dell powered by EMC isn't far behind
In 2Q16, HPE, with a market share of 15.0%, led the overall cloud hardware space. It was closely followed by Cisco and Dell-EMC with market shares of 14.0% and 13.0%, respectively. Although Dell is behind Cisco and HPE in terms of market share, it's not far behind them in the cloud infrastructure space. If the combined entity manages to harness synergies, it's very likely that Dell-EMC could become a leader in the cloud hardware space.
VMware's competitive edge in data center will get a boost under Dell's umbrella
The Synergy Research Group report also said that the cloud is primarily driving overall spending in the data center infrastructure space. On average, the space has hovered around $29.0 billion over the last nine quarters. Data infrastructure encompasses servers, storage, network security, networking, and virtualization software.
Data center infrastructure, computing capacity, and geographic scale are considered crucial prerequisites for a sound cloud service. VMware, now owned by Dell, was ranked second after Microsoft (MSFT) in the cloud infrastructure software space. It claims that its vSphere has an 80.0% market share in the corporate data center space.
Looking further at the ultra-competitive cloud space, VMware devised its cloud strategy, which focuses on hybrid cloud infrastructure and development. In sync with this strategy, VMware announced partnerships with IBM and Amazon (AMZN).