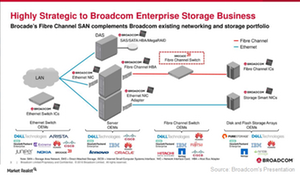 What's the Strategy behind Broadcom's Brocade Acquisition?
By Puja Tayal

Updated
Why did Brocade sell its profitable business?
In the previous part of the series, we saw that Broadcom (AVGO) is acquiring Brocade Communications (BRCD) in order to benefit from the latter's strong cash flow. This raises the question of why Brocade agreed to be acquired if its business was profitable.
Brocade's CEO, Lloyd Carney, stated that the company had no intention of selling, but that the 47% premium offered by Broadcom was compelling. Brocade's key fiber SAN (Storage Area Network) business has been witnessing falling revenue as Ethernet switches replace FCs (fiber channel). Brocade has been looking to diversify through acquisitions, as it's realized that there are no more growth opportunities left in the FC space. Despite multiple acquisitions, Brocade couldn't escape the FC SAN market and competition with Cisco Systems (CSCO) on a large scale.
Brocade's acquisition by Broadcom gives it a chance to compete with Cisco on a large scale and to offer a 47% premium to its shareholders in a dim market.
Article continues below advertisement
Complementary product portfolio
Brocade's fiber SAN switches, which connect storage networks to data center computers, will complement Broadcom's network interface cards, host bus adapters, and integrated circuits. Broadcom has already acquired Brocade's rival Emulex.
Although the two companies' products are complementary, it still doesn't justify Broadcom's investment in a falling market, as this would block its short-term acquisition flexibility.
Why is Broadcom entering the falling FC market? 
As the adoption of Ethernet switches rises, the FC SAN switches market will erode. Broadcom already has a strong portfolio of Ethernet switches and connectivity devices such as Wi-Fi chips. The addition of fiber switches would help Broadcom to offer one of the industry's broadest portfolios for enterprise storage.
With the advent of IoT (Internet of Things) technology and autonomous cars, the use of data centers should increase significantly. At such a peak time, Broadcom stands to benefit from its broad portfolio of enterprise storage. Moreover, having both offerings could help Broadcom to receive the maximum benefit from the fiber to Ethernet transition.
Market leader
Brocade dominates the FC SAN switch market with a 70% share, followed by Cisco and Cavium (CAVM). Its acquisition of Brocade will make it a leader in the FC SAN switch market, giving it pricing power. Cisco and Cavium may not be keen to compete with Broadcom over pricing in an already falling market.
Apart from the market synergies we discussed above, Broadcom's Brocade acquisition could bring some operational synergies. We'll look into them in the next part of the series.