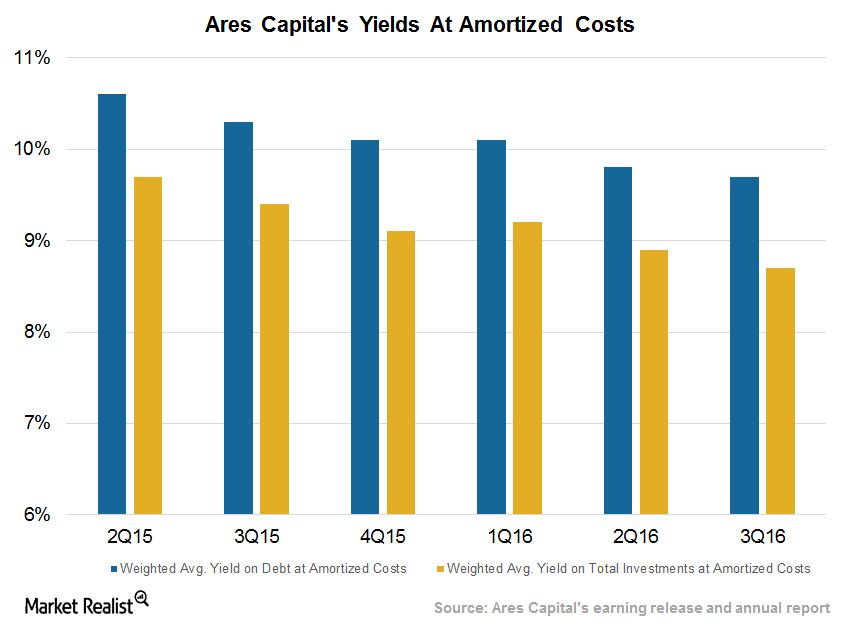 Ares Capital's Yields and Credit Statistics Fell in 3Q16
Credit statistics decline
Ares Capital's (ARCC) portfolio totaled $8.8 billion at fair value as of September 30, 2016. Its total assets stood at $9.1 billion. The company's corporate borrowers reported last-12-month EBITDA (earnings before interest, tax, depreciation, and amortization) growth of ~7%.
The company's credit statistics fell sequentially as non-accrual loans rose in 3Q16. About 2.3% of the company's portfolio was at cost compared to 2.6% at the end of 2015 and 1.3% in the previous quarter. 1.2% of the portfolio was at fair value on a non-accrual basis as of September 30, 2016.
As of September 30, 2016, the weighted average yield on the company's debt and other income-producing securities at amortized costs fell to 9.8% compared to 10.1% on December 31, 2015. The weighted average yield on total investments at amortized cost fell to 8.7% from 9.1% in the same timeframe.
Ares Capital posted revenue growth of 6.1% year-over-year amid volatile market conditions. Below are the year-over-year revenue increases of the company's investment management peers:
Together, these companies form 6.0% of the PowerShares Global Listed Private Equity ETF (PSP).
Article continues below advertisement
Article continues below advertisement
ACAS acquisition
Ares Capital (ARCC) is working with American Capital (ACAS) in a bid to smoothly complete the acquisition. On May 23, 2016, Ares Capital signed a definitive agreement to acquire American Capital in a cash and stock transaction for a valuation of $4.0 billion. The acquisition will lead to consolidation of the closed-end fund industry. It will also help Ares Capital to expand its offerings and clientele, especially in the retail segment.
Ares Capital is funding the acquisition through $460.0 million in new debt commitments, which would bring the total commitments of the Revolving Credit Facility to $1.0 billion.