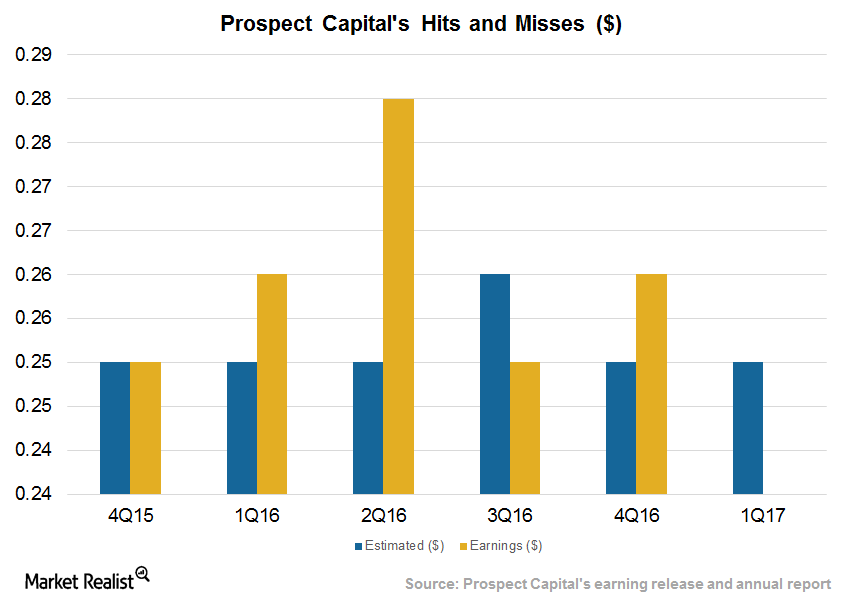 What to Expect of Prospect Capital's Earnings in Fiscal 1Q17
Earnings revision
Prospect Capital (PSEC) is expected to post earnings per share (or EPS) of $0.24 in fiscal 1Q17, a fall of $0.01 compared to estimates. Its earnings are expected to be lower sequentially and year-over-year, reflecting lower originations amid increasing competition for quality credit.
For its fiscal 2017 ending on June 30, 2017, Prospect is expected to post EPS of $0.99 compared to $1.04 in fiscal 2016. The company's EPS are $0.01 less than its current dividend payout. In fiscal 4Q16, Prospect Capital beat analysts' net income estimate of $0.25 per share with a net income of $0.26 per share.
Article continues below advertisement
In fiscal 4Q16, Prospect's net asset value stood at $9.62 per share, compared to $9.61 in the previous quarter. Overall, the company has strong yields due to deployments in its structured, retail, and real estate businesses. However, it's witnessing lower originations due to the shifting of its portfolio and competition from other lenders.
Prospect completed the sale of its investment in Harbortouch Payments for $328 million in fiscal 4Q16. The monetization yielded the company a 14% return on investment. It will use the proceeds to repay $167.5 million worth of notes due in August 2016, resulting in lower leverage.
Here's how some of the company's peers in the industry performed in terms of their respective earnings:
Apollo Investment (AINV) has yet to report results.
Ares Capital (ARCC) has yet to report results.
BlackRock Capital Investment (BKCC) has yet to report results.
Together, these companies make up 4.3% of the PowerShares Global Listed Private Equity ETF (PSP).
Closed-end fund
Prospect Capital is a financial services company providing debt and equity to middle-market, privately held companies. It acts as a closed-end fund and is regulated as a BDC (business development company). The company provides capital to companies in the form of senior, subordinated debt and equity. The companies use this capital for growth, development, acquisitions, divestitures, and recapitalizations.
In this series, we'll study Prospect Capital's expected yields, originations, strategy, earnings, balance sheet, dividends, and valuations.