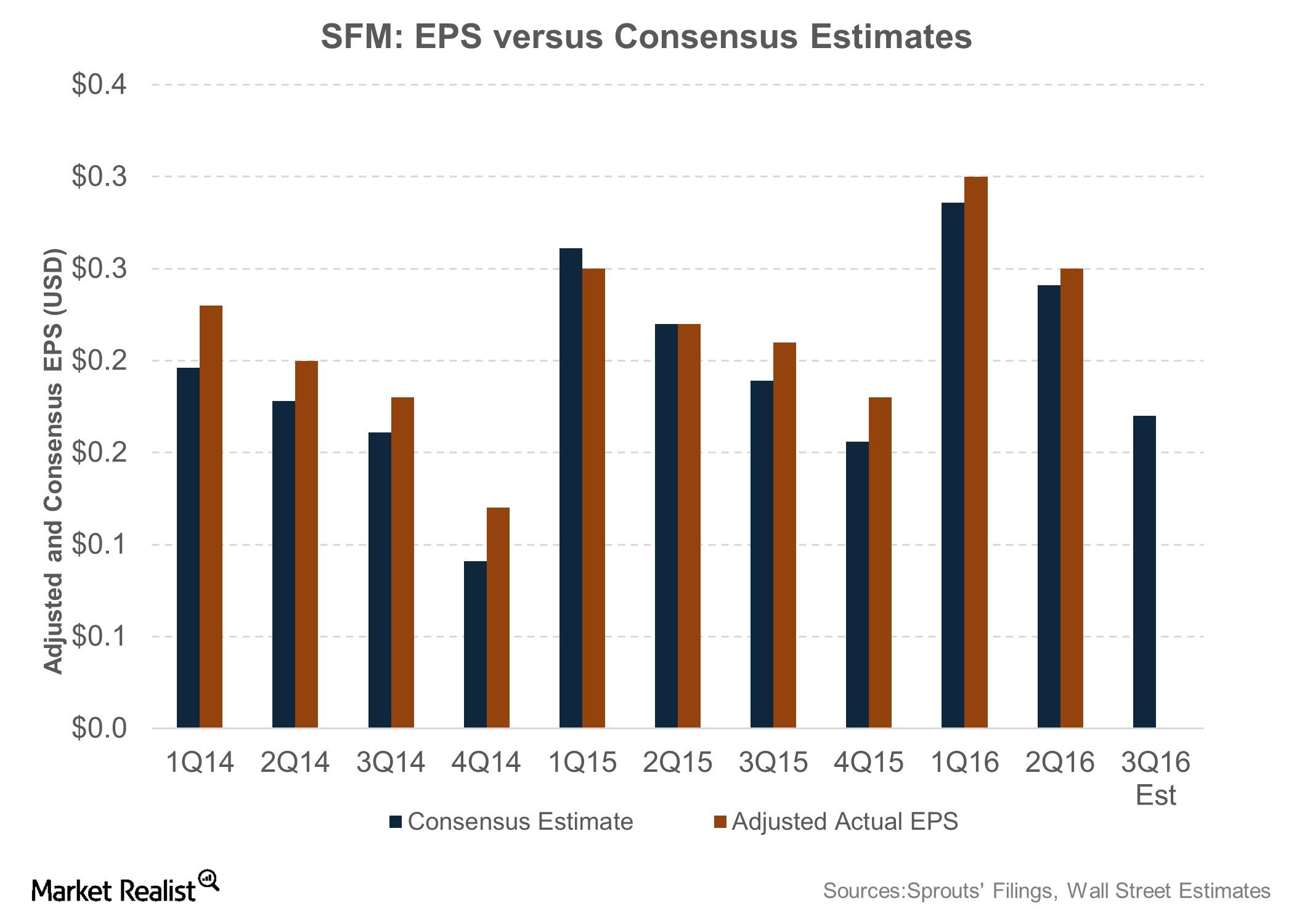 Sprouts Farmers Market May Not Have the Best Quarter
Sprouts Farmers Market's 3Q16 results preview
Sprouts Farmers Market (SFM), based in Phoenix, Arizona, is slated to release its financial results for 3Q16 on Thursday, November 3, 2016, before the market opens. The results relate to the three-month period ended October 2, 2016.
Wall Street is expecting the company's EPS (earnings per share) to fall 19.0%, to $0.17. This would be the first time the natural food retailer would witness a fall in earnings since it was listed in July 2013.
Sales growth is expected to slow down to 13.0% on a year-over-year basis compared to the 20.0% average growth achieved in the previous eight quarters.
Article continues below advertisement
About Sprouts Farmers Market
Established in 2002, Sprouts Farmers Market (SFM) operates as a value-oriented healthy grocery store, offering fresh, natural, and organic food. The company operates 230 stores in 13 US states as of April 2016. It follows a small-box format with an average store size of 28,000–30,000 square feet, about half the size of Whole Foods Market (WFM) stores and one-third the size of Kroger's (KR) combination stores.
Valuations overview
SFM is currently trading at a one-year forward PE (price to earnings) ratio of 24.5x, operating in the middle of its 52-week PE range of 18.9x–27.7x.
The company continues to trade at a premium to supermarket chains Kroger (KR), Whole Foods Market (WFM), and Supervalu (SVU), which are valued at 14.4x, 18.9x, and 7.5x, respectively.
Investors looking to invest in SFM through ETFs can choose the iShares S&P Mid-Cap 400 Growth (IJK). SFM accounts for ~0.44% of IJK.
What's in this series?
This series is a preview of Sprouts Farmers Market's upcoming 3Q16 results. We'll look at the company's financial performance in 2Q16, evaluate the reasons behind its expected performance in the next quarter and the remainder of the year, and explore Wall Street's outlook for the company.