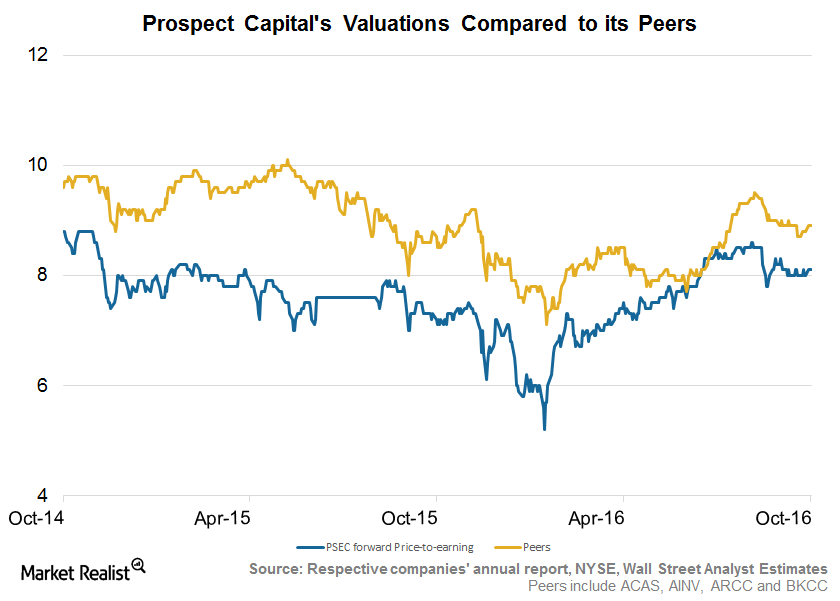 Prospect's Valuation Discount Consistent on Lower Originations
Higher dividends
Prospect Capital's (PSEC) stock has fallen ~3% in the past quarter, and it has risen ~11% in the past year. The company is currently trading 7% lower than its 52-week high. In fiscal 4Q16, the company saw higher exits resulting in lower net asset value, partially offset by marginally higher yields.
In fiscal 1Q17, the company is expected to post earnings per share (or EPS) of $0.24, lower than fiscal 4Q16's dividend per share of $0.25. However, in fiscal 1Q17, the company is expected to post EPS of $0.25, in line with its dividend.
Article continues below advertisement
Prospect has seen lower originations in recent quarters on higher market volatility and competition. The company expects improved originations, albeit at a slower pace, in the quarters to come. It generated distributable income of $0.27 per share in fiscal 4Q16. In fiscal 2016, it generated EPS of $1.07, compared to its total dividend of $1.00 per share.
Prospect's ~13.0% dividend yield is the highest among its peers. Let's take a look at some of its competitors' dividend yields:
Together, these companies form 5.5% of the PowerShares Global Listed Private Equity ETF (PSP).
Valuation gap persists
Prospect Capital is currently trading at 8.1x on a one-year forward earnings basis. Its competitors are trading at an average of 8.9x. The company's valuation gap has fallen marginally over the period, but it has widened recently on weak earnings expectations. In fiscal 4Q16, Prospect's yields improved, but its net originations remained negative.
Prospect's major strengths lie in its multiple origination strategies, its higher yields through structured and online lending, its investments into new areas, its advanced pipeline, and its strong balance sheet. The company is focusing on expanding its loan book amid volatile markets.
For related analysis, check out Market Realist's Financials page.