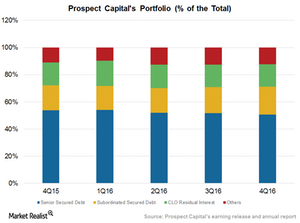 Prospect Could See Higher Originations in Fiscal 1Q17
More exits than deployments
In fiscal 4Q16, Prospect Capital (PSEC) made $294 million in investments, a substantial rise compared to its investments of $23 million in fiscal 3Q16. The company deployed these funds in multiple follow-on investments.
Closed-end funds have witnessed lower originations in recent quarters due to lower credit growth and high competition for quality credit. Prospect's investments are expected to rise at a slower pace in the upcoming quarters, which could result in subdued growth with high yields.
In fiscal 4Q16, the company invested a total of $294 million. These investments were made through the following mediums:
third-party-sponsored deals: 50%
online lending: 25%
syndicated debt: 24%
real estate: 1%
Prospect's exits in the quarter stood at $383.5 million in the form of repayments, sales, and scheduled amortization payments. Its net investment exits totaled $89.5 million, representing continued net withdrawals from the market.
Prospect Capital's control investments made up 29.7% of its total portfolio in fiscal 4Q16, compared to 33.3% in the previous quarter. Its sale of Harbortouch Payments for $328 million contributed to this fall.
The year-over-year revenue rises of the company's peers are as follows:
Together, these companies make up 4.2% of the PowerShares Global Listed Private Equity ETF (PSP).
Article continues below advertisement
New avenues for originations
Prospect Capital is working on new origination strategies in a bid to boost its loan book. It mainly lends through control investments, structured credit investments, non-controlled, agented, and syndicated lending in sponsored and non-sponsored transactions, real estate investments, and online lending.
The company targets multiple sectors and new equity investments. Prospect is leveraging its large-scale balance sheet in order to provide multiple financing options to corporates.
In the next part of this series, we'll study Prospect Capital's focus on real estate and online lending.