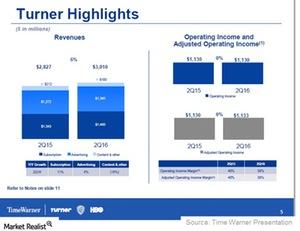 What's the Outlook for Time Warner's Advertising Business?
Reduction in television advertising loads
Many media companies, including Time Warner (TWX), have been talking about reductions in advertising loads on television. At the start of 2016, Time Warner said it intended to reduce ad loads on Turner's TNT channel. It also intends to reduce ads on TNT's three new dramas set to premiere this year. The company's TruTV channel is targeting the reduction of advertising loads by 50% by 4Q16.
Time Warner was asked during its 2Q16 earnings call how the reduction in ad loads would likely affect its revenue. The company suggested that the reduction in ad loads would give way to more television shows.
Article continues below advertisement
Advertising technology products
The company has been investing more in advertising technology to increase user engagement for its advertisers. The company's new products in data analytics include Targeting Now, Audience Now, ROI Now, and Provable ROI. The company stores all information on consumers in its Turner data cloud and via data integration with Oracle (ORCL).
Turner in 2Q16
Time Warner's Turner segment had revenue of $3 billion in 2Q16, a rise of 6% YoY (year-over-year). Its growth was driven by an 11% rise in subscription revenue and a 6% rise in advertising revenue.
The segment's advertising revenue was $1.3 billion in 2Q16, mainly driven by the broadcast of the NCAA (National Collegiate Athletic Association) Division I Men's Basketball National Championship and by Turner's news channels' coverage of the upcoming US presidential elections.