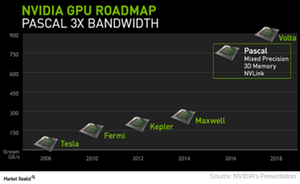 Nvidia May Accelerate Its GPU Roadmap to Compete with AMD
By Puja Tayal

Updated
Nvidia's GPU roadmap
So far in this series, we've seen that Nvidia (NVDA) has enjoyed the benefits of being the first in the market to launch the 16nm (nanometer) GPU (graphics processing unit) Pascal. The company wants to maintain this momentum, making it aggressive in developing next-generation products before its rival Advanced Micro Devices (AMD) can do so.
This could lead Nvidia to change its roadmap, bringing the next big launch of Volta a little ahead of schedule.
Article continues below advertisement
What will come first—Volta or Vega? 
According to Nvidia's original roadmap, the next-generation GPU Volta was intended to be launched in 2018, as it would be built on TSMC's (TSM) 10nm (nanometer) technology, which would come into full production in mid-2017. However, there are rumors that Volta could be unveiled during the GTC (GPU Technology Conference) to be held in May 2017.
If the above rumor is true, there are two possibilities. Firstly, Nvidia would build Volta on TSMC's more advanced 16nm FinFET (Fin Field Effect Transistor) node. Alternatively, it could switch to the Samsung (SSNLF) foundry, which claims to have started mass production of the 10nm node. There were media reports stating that Samsung would manufacture Nvidia's next-generation GPUs.
Nvidia (NVDA) is rushing to launch Volta in early 2017, which is the timeframe when AMD could release its next-generation GPU Vega.
While these reports were about the architecture, there are rumors that Nvidia could announce new products in gaming and VR (virtual reality), as well as make major announcements in AI (artificial intelligence) and automotive at the CES (Consumer Electronics Show) to be held in January 2017.
We'll look into Nvidia's upcoming product launches in the next part of this series.