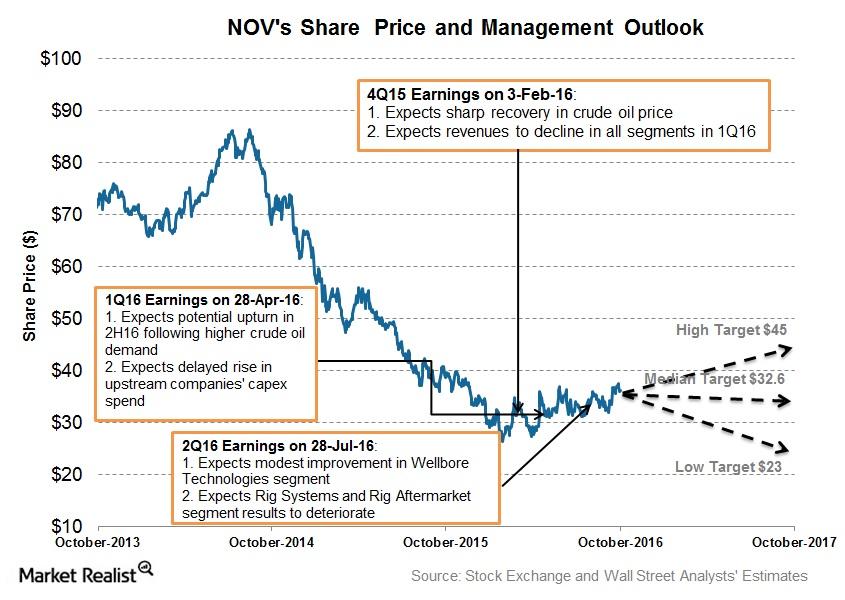 What Are National Oilwell Varco's Estimates for 3Q16?
National Oilwell Varco's management outlook
Article continues below advertisement
Is NOV's cost structure changing?
National Oilwell Varco's management expects savings from headcount reductions and facility closures to flow in the coming quarters. During the 2Q16 conference call, Williams stated that "during the second quarter, we detailed additional cost reduction steps that totaled over $400 million in annualized savings that will flow in over the next few quarters."
National Oilwell Varco's growth prospects for 3Q16
In North America, the demand for NOV's products and services such as artificial lift rod guides, solids control in West Texas, and drilling motor rentals could increase.
In the international market, NOV expects a deterioration in its international business, except in the Middle East. Its international business prospect is marred by pricing pressure and business mix shifting.
NOV's Wellbore Technologies and Completion & Production Solutions segments' revenues could rise modestly in the near term.
The Rig Systems and Rig Aftermarket segments could see lower revenue in the near term.
The offshore demand for NOV's products remains non-existent.
Next, we'll discuss investors' short interest in National Oilwell Varco's stock.