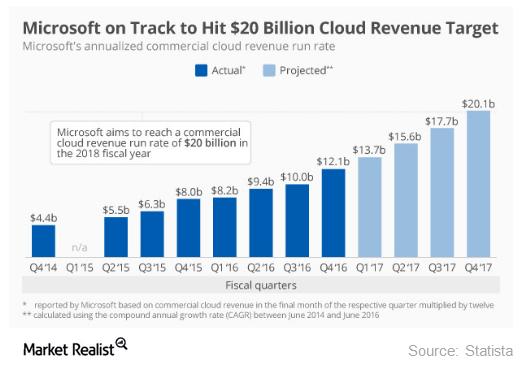 Is Microsoft's 'Mobile First, Cloud First' Strategy Working?
Microsoft's cloud offerings show steady growth
Given Microsoft's (MSFT) recent announcements, acquisitions, and partnerships, we can deduce that the company's focus is to facilitate the Windows 10 adoption, push its cloud offerings, and diversify its footprint.
Some time back, Microsoft announced a partnership with Adobe (ADBE). Under this partnership, Adobe will shift its Marketing Cloud, CC (Creative Cloud), and Document Cloud services to Microsoft's cloud computing platform, Azure. Microsoft, in return, will use Adobe's Marketing Cloud as the "preferred marketing service" for its Microsoft Dynamics 365 Enterprise. Meanwhile, Microsoft is also entering into partnerships to scale Azure, which has played a vital role in company's improved cloud performance.

Article continues below advertisement
In 1Q17, Microsoft's Azure revenues rose 121.1% in constant currency terms, with its computing usage, more than doubling on a YoY (year-over-year) basis. In 1Q17, Office 365's commercial revenues rose 54.0%. Fiscal 1Q17 marked the ninth consecutive quarter that the Dynamics CRM Online seat additions more than doubled YoY.
In 1Q17, Office 365 commercial MAU (monthly active users) grew to 85 million—a rise of more than 40% on YoY (year-over-year) basis. Office 365 commercial seats also grew 40% on YoY basis, with 54% growth in revenue in constant currency terms.
$20 billion in cloud revenue
With its fiscal 1Q17 earnings out, Microsoft's annualized commercial cloud revenue run rate is now $13 billion, which represents of YoY rise of 59%. This figure exceeded the expectations of analysts, who had forecast the company to report $12 billion in fiscal 1Q17.
Microsoft's aim to achieve $20 billion in annualized commercial cloud revenue run rate by 2018 now looks achievable, given these growth figures.