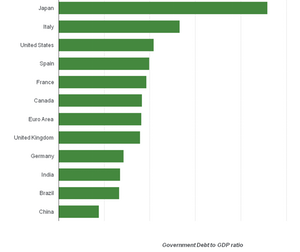 The Debt Clock Is Ticking: Does the Next President Have a Plan?
By Surbhi Jain

Updated
Have the presidential candidates noticed that the debt clock is ticking?
The debt clock is ticking in the United States, and at a good pace. The total US (SPY) (IWM) (QQQ) debt is currently $19.8 trillion. Of this, public debt is about $14.3 trillion, just more than 72.0%. At 104.2% as of 4Q15, the United States has the third-highest government debt-to-GDP ratio in the world, after Japan (EWJ) at 229.2% and Italy (EWI) at 132.7%.
Article continues below advertisement
Could rising debt reduce average incomes?
The CBO (Congressional Budget Office) estimates that over the next three decades, if debt continues to rise at its current pace, we could see average incomes fall $4,000 per person.
At the third presidential debate on October 19, 2016, Chris Wallace of Fox News questioned both presidential candidates on the issue of national debt raising serious concerns for the economy. Wallace said, "Our national debt as a share of the economy, our GDP is now 77%. That's the highest since just after World War II, but the non-partisan Committee for a Responsible Federal Budget says, Secretary Clinton, under your plan, debt would rise to 86% of GDP for the next ten years. Mr. Trump, under your plan, they say it would rise to 105% of GDP over the next ten years. The question is why are both of you ignoring this problem?"
So does the next US president have a plan? Let's see in the next part.