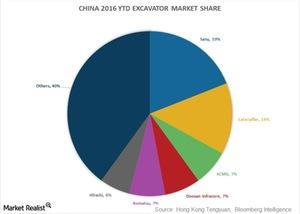 Caterpillar Doubles Its Market Share in China's Shrinking Market
Caterpillar's market share in China
In 2012, Caterpillar (CAT) had a market share of 7% in the excavator manufacturing industry. In comparison, Sany, Komatsu (KMTUY), and Hitachi (HTHIY) had market shares of 14%, 8%, and 7%, respectively. Based on market share figures provided by Hong Kong Tengyuan YTD (year-to-date) in 2016, Caterpillar's share in the industry doubled to 14%. Sany still maintains a decent lead over Caterpillar with a market share of 19%. Hitachi and Komatsu have each lost shares by 1 percentage point. Most of the market share losses were sustained by smaller players in the "others" category. The category had a market share of 40% YTD in 2016—compared to 50% in 2012.
Article continues below advertisement
Are Caterpillar's market shares meaningful?
At Jefferies Industrial Conference in August, Caterpillar stated that in the 12-ton and above excavator category, China's market fell from 120,000 excavators in 2011 to 23,000–25,000 excavators in 2015. The industry will likely be flat to up 1% this year. Therefore, market share gains in a market that fell by nearly 80% likely won't look good on time series comparisons. However, the dealer equipment sales that Caterpillar puts out on a monthly basis have shown some signs of stabilization. China's excavator sales have risen for three months. Therefore, declines in China could be bottoming out after sustained declines stretching almost half a decade.