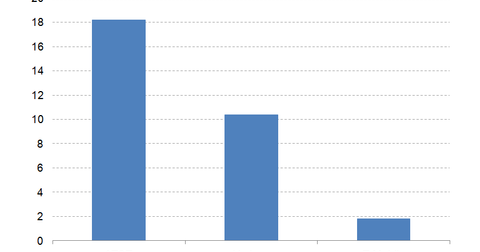 What's Giving Verizon a Competitive Advantage in 5G Technology?
By Puneet Sikka

Updated
Verizon's getting proactive in 5G
In the telecom world, 5G is the new buzzword because it's thought to provide 10x–100x faster wireless speeds than 4G. And although 5G technology implementation is still in its nascent stage, Verizon Communications (VZ) has been proactive in developing it. Clearly, Verizon considers 5G to be a game changer. It also believes that 5G implementation will save costs for the company.
During its 2Q16 earnings conference call, Verizon's management stated that 5G is "in effect, wireless fiber, which is wireless technology that can provide an enhanced broadband experience that could only previously be delivered with physical fiber to the customer. With wireless fiber, the so-called last mile can be a virtual connection, dramatically changing our cost structure."
Article continues below advertisement
AT&T could be another aggressive player in 5G market
Verizon is currently working on deploying 5G technology in Dallas in partnership with Nokia (NOK) and Ericsson (ERIC). Verizon's fortunes in the 5G market also got a boost when its acquisition of XO Communications for $1.8 billion recently received approval from the FCC (US Federal Communications Commission). XO will not only give Verizon an edge in 5G technology—it possesses some high-frequency airwaves in 5G network bands—but it should also give Verizon access to XO's fiber-optic networks in some US markets.
AT&T (T) is currently working with Ericsson and Intel (INTC) to implement its 5G technology. To gain additional spectrum for 5G technology, AT&T will participate in the broadcast spectrum auction.
Incidentally, AT&T was the highest bidder during the AWS-3 spectrum auctions in early 2015 and purchased spectrum worth $18.2 billion. The AWS-3 spectrum auction was the major auction conducted by the FCC after 2008. And as the graph above shows, Verizon and T-Mobile (TMUS) also participated in that auction and made a winning bid of $10.4 billion and $1.8 billion, respectively.
Continue to the next part for a look at T-Mobile's and Sprint's aggressive discounting strategies.