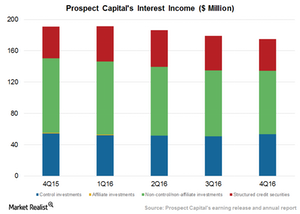 Why Closed-End Funds Are Not That Enthusiastic about Rate Changes
By Robert Karr

Dec. 4 2020, Updated 10:52 a.m. ET
Interest rates
Closed-end funds (PSP) deploy leverage in order to generate higher returns for shareholders. The carry interest model works when interest rates are low and are deployed at markups by managers for higher risk-adjusted returns.
However, any increase in rates can lead to either shrinking margins or increased risk associated with generated returns. The Federal Reserve is expected to raise rates at least once this year as the overall economy stabilizes. Plus, low interest rates are fueling bubbles in the form of higher stock market valuations.
Closed-ended funds are expected to borrow less and refinance existing debt in order to reduce interest costs. However, in order to match funding and maintain credit ratings, long-term capital can be raised by select players. The competition on the origination front is high, which can lead to marginal or no change in the cost of offerings in the upcoming quarters.
Strengthening capital
Prospect Capital (PSEC) is strengthening its capital position in order to take advantage of mispricing during volatile times. The company seeks to raise capital through the sale of a stake in non-business development companies, which can include partial or complete spin-offs.
Prospect Capital has also been successful in identifying valuation gaps and has deployed more than $350 million as part of its advanced investment pipeline. The company has also been expanding its online lending business rapidly.
Ares Capital (ARCC) has expanded its portfolio by acquiring American Capital (ACAS) in order to generate higher returns for its shareholders. However, asset managers with high leverages, such as Apollo Investment (AINV) and United Rentals (URI), have focused on replacing their high-cost debt with lower costs in order to boost returns.
Now let's look at the earnings expectations of BlackRock Capital Investment, Prospect Capital, and Ares Capital going forward.
Article continues below advertisement