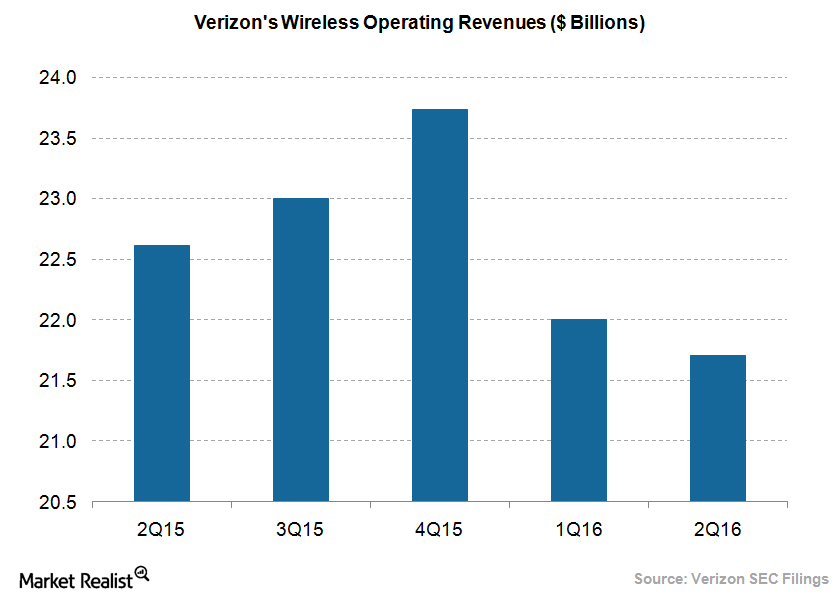 Why Verizon Needed to Diversify Its Wireless Business
Verizon's wireless business has fallen over the last few quarters
In our previous series on the wireless space, An Investors' Guide to the Latest Developments in the Wireless Space, we discussed the latest dynamics in this area. We discussed the initiatives Verizon (VZ), AT&T (T), Sprint (S), and T-Mobile (TMUS) are undertaking to grow their respective businesses in this space. However, over the last few years, Verizon and AT&T have started to diversify away from their wireless businesses. In this article, we'll discuss how and why Verizon has been trying to do that.
The wireless business still accounts for more than 70% of Verizon's revenues. However, Verizon's wireless business has recently seen declining revenue growth into negative territory.
Article continues below advertisement
Stiff competition in the wireless space is an important factor
Competition in the US wireless space has grown over the last few years, mainly because of Sprint and T-Mobile's low-pricing strategies. Early this year, Sprint announced that if customers switched to Sprint, they would have to pay only half of what they were paying for their existing plan. Sprint also mentioned that it would cover up to $650 in switching costs as well. Last month, T-Mobile and Sprint brought back unlimited data plans to attract more customers, which means they will no longer be charging for overages.
Such initiatives by Sprint and T-Mobile meant that both these players gained more postpaid phone subscribers than Verizon and AT&T. In the last quarter, T-Mobile gained 646,000 postpaid phone subscribers, while Sprint managed to gain 173,000. Verizon had much lower net gains at 86,000 postpaid phone subscribers, while AT&T lost 180,000 such subscribers.
To diversify its wireless business, Verizon acquired AOL and Yahoo to leverage the growth in the online advertising space, especially the video advertising. Verizon also introduced go90, a mobile streaming service, to be a part of this growing market. The Internet business involves much less capex investment compared to a wireless business, so Verizon will likely save on this cost. Verizon will also have to worry less about the issues related to unionization, something which it had to deal with in its wireline business last quarter. The seven-week work stoppage due to the strike in its wireline business caused an estimated hit of $0.07 to its earnings per share in the last quarter.