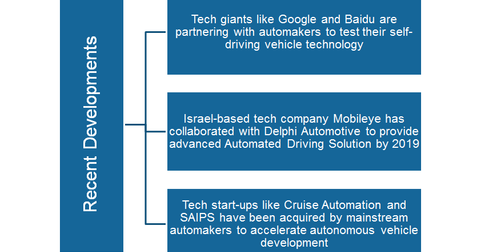 These Tech Companies Are Trying to Change the Auto Industry
By Jitendra Parashar

Sep. 6 2016, Updated 9:04 a.m. ET
Autonomous vehicles
Mainstream auto companies are accelerating their plans to build self-driving or autonomous vehicles. These companies include auto giants (IYK) Ford Motor (F), General Motors (GM), and Fiat Chrysler Automobiles (FCAU). Autonomous vehicles could not only revolutionize the auto industry as we know it but also change the way we commute, and tech companies are playing a critical role in their development.
Article continues below advertisement
Role of tech companies
Autonomous vehicles are being developed through the integration of multiple technologies. Radar (radio detection and ranging), LiDAR (light detection and ranging), GPS (global positioning system), ultrasonic sensors, computer vision, and artificial intelligence are only a few of the basic technologies already being used to make the self-driving vehicles of tomorrow.
Whether it is a tech start-up like Cruise Automation or established tech giants like Google (GOOGL), Baidu, and Mobileye, a host of tech companies are helping to make the dream of autonomous vehicles come true. Notably, Google and its Chinese counterpart, Baidu, have already collaborated with several automakers to test their self-driving vehicle technology.
Mobileye
Recently, Israel-based Mobileye (MBLY) has collaborated with Delphi Automotive (DLPH) to provide advanced Automated Driving Solutions by 2019. Notably, Mobileye already has an impressive client base in the auto industry, including companies like GM, Tesla, Volvo, and BMW. These automakers currently use the technological solutions provided by Mobileye in their vehicles.
But it's hard to expect legacy automakers to master all the necessary technologies and techniques alone. For this reason, several tech companies with expertise in their respective fields have made the development and testing of autonomous vehicles possible.
Limitations of tech companies
Although they are masters in their fields, tech companies will need to collaborate with automakers and auto parts manufacturers to provide better autonomous capabilities in a vehicle. For this reason, we've seen so many tech companies collaborating with legacy automakers in recent years.
In the next and final part, we'll look at a few other challenges that autonomous vehicles are likely to face going forward.