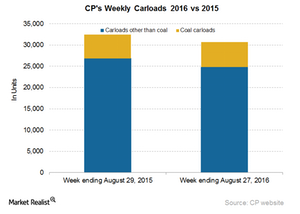 Rising Coal Volumes Not Enough to Stop CP's Fall in Carloads
Canadian Pacific's carloads
Canadian Pacific (CP) registered a fall of 5.2% in total railcars in the week ended August 27, 2016. The company hauled ~31,000 railcars in the same week against over 32,000 railcars in the corresponding week last year.
Even CP's railcars excluding coal fell by 7.7% to settle at nearly 25,000 units in the latest reported week of 2016, against ~27,000 units in the corresponding week last year.
The company received 70% of its revenues from Canada while 30% came from the US last year. CP's coal carloads were up by 6.6%, in sharp contrast with the fall reported by rival Canadian National (CNI) in the week ended August 27, 2016.
Article continues below advertisement
Why coal carloads matter for CP
Coal accounted for 10% of revenues and 12.3% of carloads for CP last year. CP mostly transports metallurgical coal meant for export through Metro Vancouver's port. Its coal traffic in Canada begins primarily from Teck Resources's (TCK) mines in southeastern British Columbia.
In the last year, coal's production and demand has been under pressure due to depressed prices, environmental concerns, and shift of coal-fired power plants to natural gas–based electricity generation. Even the US steel producers' capacity utilization has not seen marked improvement in the recent quarter. However, TCK has issued slightly higher production guidance for 2016 compared with 2015.
If this goes according to plan, then we should see either more coal hauling by CP in 2016 or less contraction in the company's coal volumes in the same year compared with its peers.
All the US-based Class I railroads make up the portfolio holdings of the WisdomTree Earnings 500 ETF (EPS).
The frontrunners and the backbenchers
Commodity groups such as potash and forest products were up in the week ended August 27, 2016. On the other hand, Canadian grain, US grain, fertilizer and sulphur, chemicals and plastics, crude, metals and minerals, and automotive were down in the same week.
You can compare this week's rail data from the previous week in North America Freight Rail Traffic Off Track Week Ended August 20.
For more information on the US's major railroad stocks (UNP), please visit Market Realist's Railroads page.
In the final part of this rail traffic series, we'll look at Canadian Pacific's intermodal traffic.