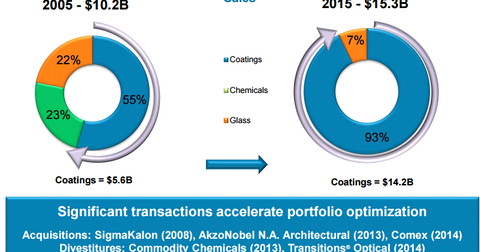 PPG Industries' Business Model Aids Its Coatings Segment
By Peter Neil

Updated
PPG Industries' growth strategy for its performance coatings segment
As we've already seen, PPG Industries' (PPG) coatings segment has been growing at a CAGR (compound annual growth rate) of 7.1% since 2010. Along with innovation, PPG Industries has been able to increase its revenues through acquisitions. Some of the segment's important acquisitions include the following:
acquired stake in specialty coatings of Deft in May 2013
acquisition of North American Architectural Coatings business of AkzoNobel, completed in April 2013
acquisition of Comex, a Mexican architectural coating company, for $2.3 billion in November 2014
acquisition of Cuming Microwave in July 2015 to boost its aerospace business
a majority stake in Le Joint Français, a France-based sealants and adhesives manufacturer, in October 2015
Article continues below advertisement
Business model
Each business under this segment works on a different business model to generate revenue. Below is the business model for each business:
The refinish business, which supplies coatings to automotive and commercial transport repair, sells its products through independent distributors. PPG has built a strong distribution network to ensure the products are available to customers.
The aerospace business supplies coatings, windshields, side windows, cabin windows, and landing light lenses to commercial and military aircraft. It follows the company-owned distribution network as well as dealing directly with customers.
Protective and marine coatings are sold through the company-owned architectural coatings store, through independent distributors, and to customers directly.
The architecture segment caters to the maintenance of residential and commercial building structures. It's the biggest revenue contributor to this segment. The products are sold through a combination of company-owned stores, home centers, national consumer retail outlets, paint dealers, independent distributors, and customers directly.
Investors can indirectly hold PPG Industries by investing in the iShares US Basic Materials (IYM), which held 5.2% of its portfolio in PPG Industries as of August 26, 2016. The top holdings of the ETF include Dow Chemical (DOW), Monsanto (MON), and Praxair (PX), with weights of 10.7%, 8.4%, and 6.1%, respectively.