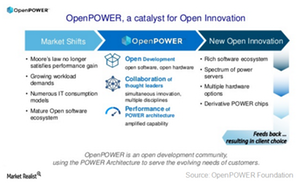 How Will IBM Compete with Intel in the Data Center Space?
IBM's OpenPower Foundation
In the previous part of the series, we saw that IBM (IBM) unveiled its Power9 server processor, which will compete with Intel's (INTC) x86 server processor in many ways. However, IBM has only been using its server processors inside it servers.
In 2013, the company decided to make its technology available to third parties and launched the OpenPower Foundation. So far, only one company, Suzhou PowerCore Technology, uses these Power architecture designs and makes variants of them.
Article continues below advertisement
Article continues below advertisement
Power9 designs for other hardware makers
IBM will not only launch Power9 in its servers but also make it available to other hardware companies by licensing the design to them. With these efforts, IBM aims to challenge Intel's dominant position in the data center space.
There are fears that Chinese companies could use IBM's designs to manufacture servers at cheaper prices. This would pose a challenge for Intel, as China is expected to become the second largest data center market in the world after the United States by 2020.
IBM's design wins
IBM's Power9 chips have already secured a few contracts and are expected to win Google (GOOG) and Rackspace's (RAX) Zaius server design. IBM has also secured a supercomputer order from the US Department of Energy at the Oak Ridge National Laboratory.
It's not just IBM that has opened its designs for licensing. ARM Holdings (ARMH) also licenses its ARM designs to OEMs (other equipment manufacturers) across the globe. Around 95% of the smartphones used in the world are powered by ARM-based chips.
Now, the licensing giant is looking to enter the data center space with its power-efficient chips. It unveiled its new design targeted at supercomputers at the Hot Chips conference. We'll look at ARMH's new chip design in the next part of the series.