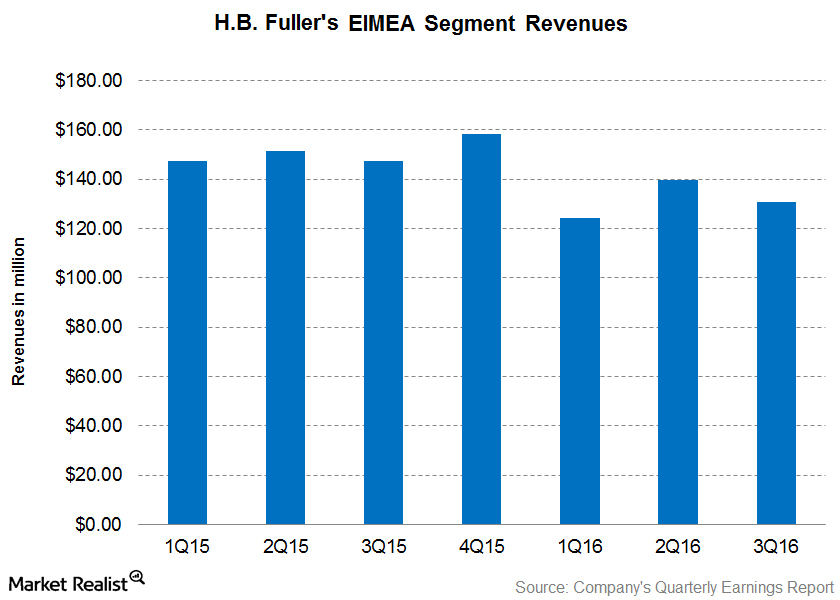 H.B. Fuller's EIMEA Segment Saw Volume and Margin Growth in 3Q16
H.B. Fuller's EIMEA segment
H.B. Fuller's (FUL) EIMEA (Europe, India, the Middle East, and Africa) segment includes specialty adhesives such as thermoplastic, thermoset, reactive, water-based, and solvent-based products. It's the same as the Americas Adhesives segment but serves mainly the EIMEA region.
EIMEA is H.B. Fuller's second-largest revenue generator. In 3Q16, the segment reported revenue of $130.6 million, or 25.5% of the company's total revenue. On a year-over-year basis, the revenue from this segment has fallen 2.2%, mainly due to the following:
Lower average prices negatively impacted the revenue 2.3%.
Sales volumes rose 0.3% despite the region's political concerns such as the Brexit and instability in Turkey.
The foreign exchange translation negatively impacted the segment 0.2%.
Article continues below advertisement
Article continues below advertisement
EIMEA segment: Adjusted EBITDA and EBITDA margin
H.B. Fuller's EIMEA segment reported adjusted EBITDA (earnings before interest, tax, depreciation, and amortization) of $13.6 million in 3Q16 compared to $10.7 million in 3Q15. This implies a rise in adjusted EBITDA of 27.1% on a year-over-year basis. The segment's adjusted EBITDA margin for 3Q16 was 10.4% compared to 8.0% in 3Q15. This implies a rise of 240 bps (basis points) in adjusted EBITDA margins on a year-over-year basis.
Cost reductions in raw materials as well as effective pricing, improved efficiency in supply chain management, and lower manufacturing costs played key roles in improving the segment's margin.
As of September 22, 2016, the SPDR S&P 600 Small-Cap Value ETF (SLYV) had 0.75% of its total holdings in H.B. Fuller. The top three holdings of the ETF include Allete (ALE), Wintrust Financial (WTFC), and NorthWestern (NWE), with weights of 1.0%, 0.90%, and 0.90%, respectively.
In the next part, we'll look at the 3Q16 performance of H.B. Fuller's Asia Pacific segment.