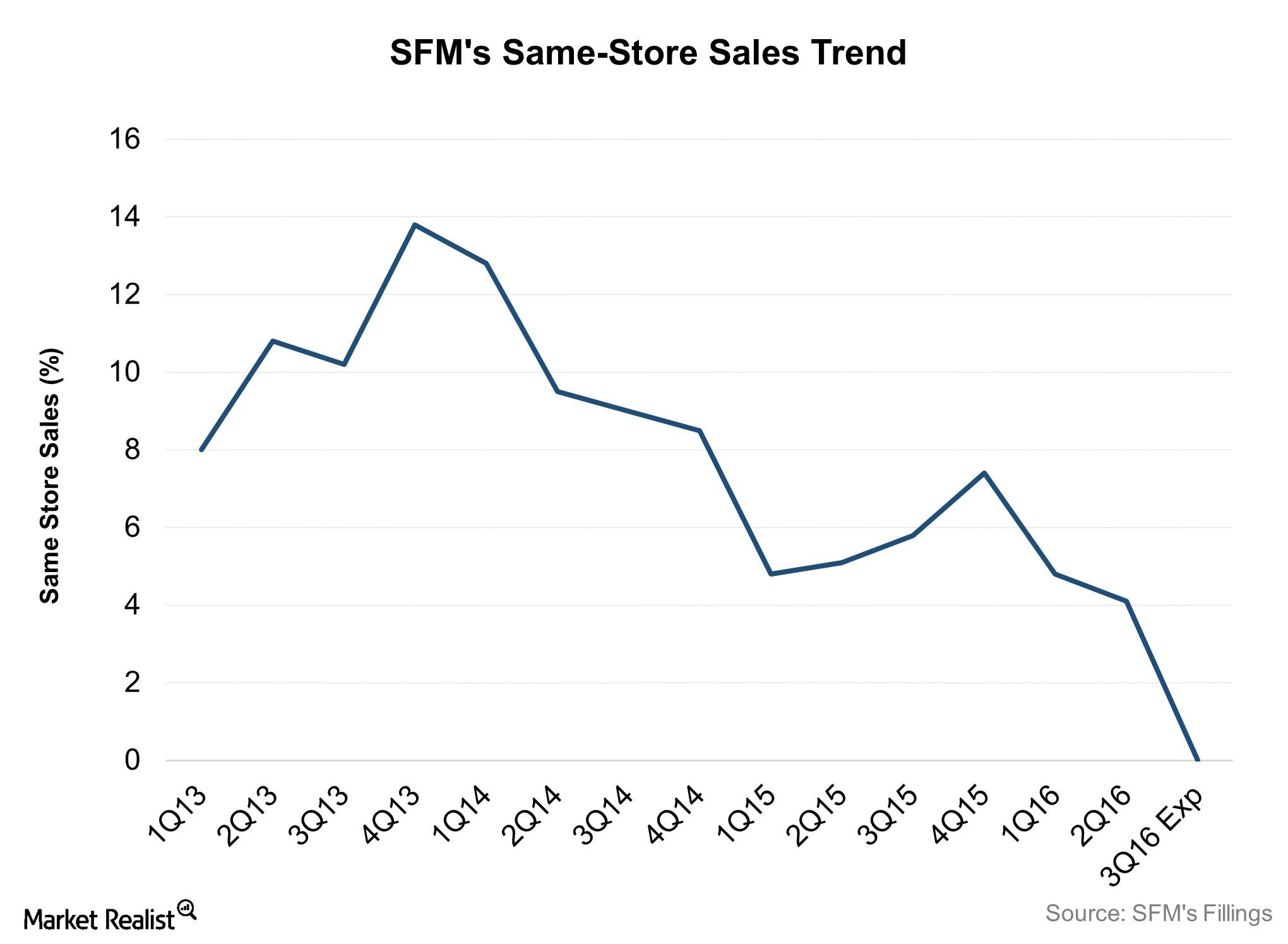 A Quick Look at SFM's Guidance Update for Fiscal 2016
SFM's guidance update for fiscal 2016
As outlined in part one of the series, Sprouts Farmers Market (or SFM) revised its guidance for the third quarter and full fiscal 2016 on September 7, 2016.
The company is now expecting its third quarter same-store sales to be almost flat as compared to the 3.5%–4.5% growth guidance provided during its 2Q16 results. According to Sprouts, the company is facing traffic headwinds due to the prolonged deflation and intense competition in the grocery space, which has resulted in a highly promotional retail environment.
Based on the current industry dynamics, the company has taken a cautious outlook for the full fiscal 2016. It has adjusted its full-year sales comps to the 1.5%–2.5% range versus the 3.5%–4.5% range guided previously.
Earnings per share (or EPS) guidance has also been revised downwards. The company now expects its EPS to land in the $0.83–$0.86 range as compared to the earlier outlook of $0.92–$0.94.
Article continues below advertisement
What does the guidance revision mean for SFM?
SFM has displayed industry-leading earnings growth in the past few years. The company's EPS grew by 50% in fiscal 2014, followed by another 19% YoY rise in fiscal 2015. In comparison, Kroger (KR), Supervalu (SVU), and Whole Foods Market (WFM) registered EPS growth of 17%, 6%, and -5%, respectively, in their last reported fiscal years.
An EPS range of $0.83 to $0.86 for fiscal 2016 implies that earnings could at best remain flat or fall up to 3.5% during the year. This signals some trouble for the grocery segment, as negative earnings growth is now expected from the best performer in the industry.
About Sprouts Farmers Market
Established in 2002, Sprouts Farmers Market (SFM) operates as a value-oriented healthy grocery store, and offers fresh, natural, and organic food. The company operated 230 stores in 13 US states as of April 2016. It follows a small-box format with an average store size of 28,000 to 30,000 square feet, about half the size of Whole Foods (WFM) stores and one-third the size of Kroger's (KR) combination stores.
Investors looking to invest in SFM through ETFs can choose to invest in the iShares S&P Mid-Cap 400 Growth ETF (IJK). SFM makes up approximately 0.37% of IJK.