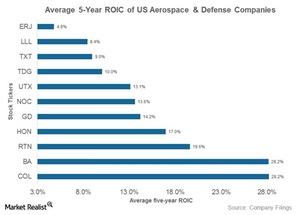 How United Technologies' ROIC Compares to Its Peers'
By Shannon Black

Aug. 31 2016, Updated 6:50 a.m. ET
Why UTX's ROIC has fallen in recent years?
In the previous part of this series, we saw that United Technologies' (UTX) ROIC has fallen in recent years. However, United Technologies does have a competitive advantage over its peers. Why? Let's explore.
It's important to remember that there are certain businesses that require capital to be invested up front over several years before they start paying off in profitability, and aerospace and defense (ITA) is one of them.
Article continues below advertisement
For example, UTX has developed the geared turbofan engine over the course of 20 years, and it currently logs a negative margin at delivery. Profitability improves after engines enter their eighth or ninth years, a sweet spot for repair and overhaul providers such as UTX. Falling ROIC is due to these delayed payoffs, and these numbers will improve when investments start paying off.
Therefore, we feel that UTX's average ROIC over a larger period will be a stronger indicator of its returns. The company's average ROIC of 16.1% over a 20-year period is among the highest that we've seen in our diversified coverage of companies. We'll discuss these aspects in detail on a qualitative basis in the second series of the company overview, which we'll publish in the first week of September.
United Technologies comparison with aerospace and defense peers
We've used aerospace and defense (XAR) industry companies within the S&P Global 1200 for our peer group construction. The aerospace and defense (PPA) industry categorization was based on rules stipulated by the GICS (Global Industry Classification Standard), an industry taxonomy standard discussed in the first part of this series.
There are 20 companies in the group with an average market cap of $32.3 billion and a median market cap of $17 billion. The average five-year ROIC of the group is 14%, slightly higher than United Technologies' 13.1%. The average five-year ROICs for UTX's competitors Rockwell Collins (COL) and Honeywell (HON) are 28.1% and 16.9%, respectively.