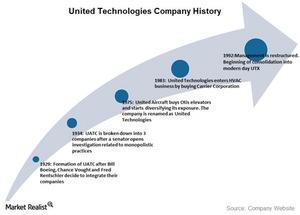 How United Technologies Has Evolved over the Years
The three musketeers and their monopoly
The origins of United Technologies (UTX) lie in the creation of the United Aircraft and Transportation Company (or UATC) in 1929. Fred Rentschler, the founder of Pratt & Whitney, managed to convince Bill Boeing and Chance Vought to merge their aerospace (XAR) companies, Boeing (BA) and Vought Industries, into one entity: UATC.
Boeing and Vought Industries were customers of Pratt & Whitney, and this setup created an exclusive supply chain that disadvantaged other players.
Article continues below advertisement
Article continues below advertisement
Instead of stopping at three companies, UATC purchased more of its suppliers, customers, and competitors such as Northrop, Sikorsky (LMT), and Hamilton Aero Manufacturing. As one can imagine, UATC was extremely successful because it was, in essence, a monopoly, controlling roughly 50% of the aircraft business in the United States.
Eventual breakup and the origin of United Technologies
After a senator opened an investigation of fraud related to monopolistic business practices against UATC in 1934, the company was broken down into three separate entities: Boeing Airplane, United Aircraft, and United Airlines (UAL). United Aircraft retained the Pratt & Whitney, Sikorsky, and Hamilton Standard businesses. Until the 1970s, the company was extremely aerospace-focused (PPA).
However, beginning in 1974, the company started diversifying by purchasing Essex International, a wire and cables company, then by acquiring a controlling stake in Otis Elevator Company in 1975. To reflect this diversification, United Aircraft was renamed United Technologies in 1975. In 1983, the company also acquired Carrier Corporation, which manufactured air conditioning systems. Carrier continues to be a part of United Technologies even today.
After a string of acquisitions, United Technologies consolidated its businesses in the 1980s and 1990s. The company currently has operations in four distinct businesses: Otis Elevators, Pratt & Whitney, UTC Aerospace Systems, and Climate Controls and Security.