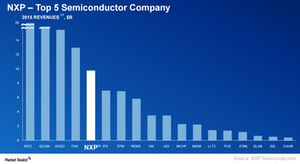 NXP Semiconductors Benefiting from Freescale Merger Synergies
NXP is now on the list of top five semiconductor companies
Many Apple (AAPL) suppliers who diversified their revenue streams, especially in automotive, reported strong growth in fiscal 2Q16, and NXP Semiconductors (NXPI) was no exception. NXP Semiconductors, which acquired Freescale in December 2015, reported fiscal 2Q16 earnings that met analysts' expectations. However, its fiscal 3Q16 guidance is lower than the analysts' estimates, as the company expects overall demand to remain soft throughout fiscal 2016.
Article continues below advertisement
Article continues below advertisement
NXP offers high performance mixed signal products for automotive, security, identification, and networking. It also offers standard products such as RF (radio frequency), analog, and power management. The merger with Freescale put NXP on the list of top five semiconductor companies and also increased its exposure to automotive. The segment accounts for 37% of NXPI's revenue.
The automotive market has been very active with rival Texas Instruments (TXN) reporting strong revenue growth in the automotive segment. Apple is NXPI's key customer, but the chipmaker stated that Apple accounts for a mid-single-digit percentage of the total revenue. This shows that NXP has a diverse customer base.
Impact of Freescale merger on NXP's earnings
If we look at the NXP and Freescale earnings post-merger, there's a 57% YoY (year-over-year) revenue growth and margin improvement. But if we look at NXP and Freescale earnings separately and add them, there's an 8% YoY decline in revenue. This is because strong growth in the automotive space was more than offset by declines in all other segments.
Article continues below advertisement
Divestment of non-core businesses
As a part of the merger, NXP divested its RF Power business and Bi-Polar business in 2015. NXP has now struck a deal to sell its Standard Products business to China's (MCHI) JAC Capital (Jianguang Asset Management) for a consideration of $2.8 billion. The transaction is expected to close in fiscal 1Q17.
With the sale of its standard products business, NXP aims to increase its operating margin to 31% to 34% in fiscal 2018 as compared to the current 25% to 26%.
NXP's debt
NXP has a huge debt-to-EBITDA (earnings before interest, tax, depreciation, and amortization) of 3.8x as it raised new debt to fund the Freescale acquisition. The company aims to reduce this ratio to 2x before undertaking any major long-term investment or acquisition.
In this series, we will see how NXP leverages merger synergies to its advantage at a time when external factors are not so rosy. We will also look at the company's strategy to repay its huge debt.