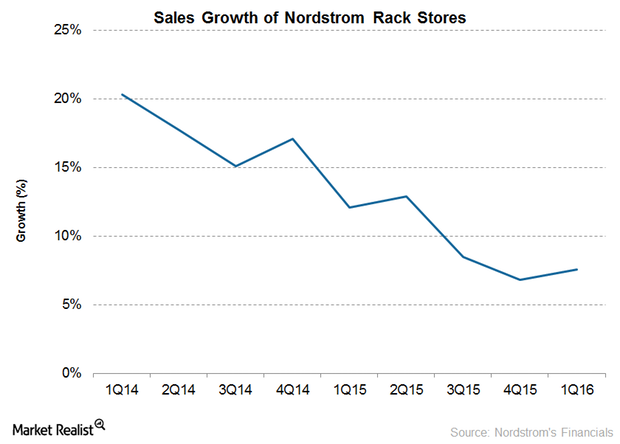 Could Nordstrom's Rack Stores Have Saved the Day in Q2?
Off-price business
Aside from operating full-line upscale stores, Nordstrom (JWN) also conducts off-price business through its Nordstrom Rack stores and off-price digital channels.
In fiscal 1Q16, the company reported a 7.6% rise in its Nordstrom Rack store sales in contrast to a 6.9% fall in its full-line store sales. Online sales of the company's off-price business, which comprises Nordstromrack.com and Hautelook, rose by 41.9% in fiscal 1Q16. Overall, sales of the company's off-price business rose by 11.8% on a year-over-year basis.
Article continues below advertisement
Article continues below advertisement
Trend in off-price store sales
Off-price stores sell merchandise at deep discounts compared to regular department stores. The outperformance of Nordstrom Rack stores compared to the full-line stores in 1Q16 reflects the strength of the off-price business model. Consumers are looking for bargain deals in off-price stores amid a backdrop of macroeconomic uncertainty.
In the comparable first quarter, off-price retailers TJX Companies (TJX), Ross Stores (ROST), and Burlington Stores (BURL) generated sales growths of 9.9%, 5.1%, and 8.2%, respectively. This was in contrast to the fall in sales of major department stores, which we mentioned earlier in this series.
Nordstrom, TJX Companies, and Ross Stores together constitute 2.2% of the iShares Global Consumer Discretionary ETF (RXI).
However, the growth rate of Nordstrom Rack stores has been under pressure in recent quarters. Nordstrom Rack's 7.6% sales growth in fiscal 1Q16 was slower than its growth rate of 12.1% in fiscal 1Q15. Also, same-store sales of Nordstrom Rack stores fell by 0.8% in fiscal 1Q16. Tepid consumer spending and growing competition in the off-price space could be the reasons for the slower growth rate.
Off-price store growth plans
Nordstrom continues to view its Rack stores as an important growth driver for its business. In fiscal 2015, five million new customers shopped at its Rack stores. The company believes that more than one-third of its Rack customers will also go on to shop at its full-price business.
In the company's fiscal 1Q16 conference call held in May 2016, Blake W. Nordstrom, the company's co-president and director, stated that the sales from the six new Nordstrom Rack stores opened as of May 2016 had exceeded the company's expectations by over 10%. The company plans to open 15 more new stores in fall 2016.
We'll look at Nordstrom's margins in the next part of this series.