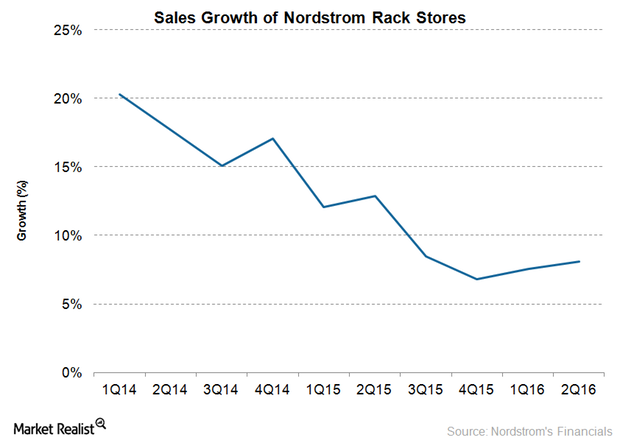 Nordstrom's Off-Price Rack Business Delivers Again in Fiscal 2Q16
Strength in off-price business
Earlier in this series, we discussed the weakness in Nordstrom's (JWN) full-price business. In contrast, Nordstrom's off-price Rack business continued to display strength in fiscal 2Q16 ended July 30, 2016.
Nordstrom's Rack business (which includes Nordstrom Rack stores, Nordstromrack.com, and HauteLook) saw an 11.2% rise in its net sales in fiscal 2Q16. The same-store sales of Nordstrom's Rack business rose by 5.3% in fiscal 2Q16.
Article continues below advertisement
Article continues below advertisement
Nordstrom Rack stores
The net sales of Nordstrom Rack's physical stores rose by 8.1% to $0.9 billion in fiscal 2Q16 year-over-year. This growth was higher than the 7.6% growth it saw in fiscal 1Q16 but lower than the 12.9% growth it saw in 2Q15.
The performance of Nordstrom Rack stores in fiscal 2Q16 reflected the strength of the off-price model even during tough business conditions. Off-price stores sell their merchandise at deep discounts compared to similar merchandise sold by department stores.
TJX Companies (TJX) and Ross Stores (ROST) are established off-price stores, with extensive store presences in the United States. Aside from the United States, TJX Companies has off-price stores in Canada, Europe, and Australia. Nordstrom and TJX Companies together account for 1.6% of the iShares Global Consumer Discretionary ETF (RXI).
In 2015, the lucrative off-price space also attracted Macy's (M) and Kohl's (KSS). Macy's opened its first off-price Macy's Backstage store in 2015. Kohl's also made its debut with its Off-Aisle store in 2015.
Store growth plans
As of the end of fiscal 2Q16, Nordstrom operated 200 Rack stores in the United States. The company also operated 118 full-line stores in the United States and three full-line stores in Canada. Nordstrom plans to open 15 Rack stores in Canada, with the first slated to open in 2018.
In the first half of fiscal 2016, Nordstrom opened six Nordstrom Rack stores and relocated one full-line store. The company plans to open 15 Rack stores in fall 2016, ending the year with a total of 215 Nordstrom Rack stores. Currently, Nordstrom plans to operate just under 300 Rack stores by 2020.
We'll discuss Nordstrom's growth plans in the next part of this series.