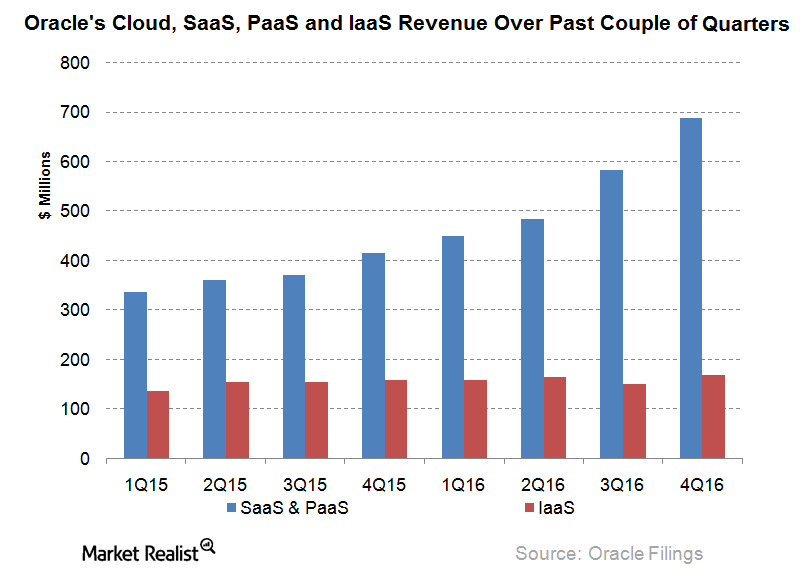 How NetSuite Will Improve Oracle's Position in the Cloud Space
NetSuite acquisition would give a push to Oracle's cloud revenue
Earlier in the series, we discussed Oracle's (ORCL) recently announced acquisition of NetSuite to boost its position in the cloud space.
If we look at Oracle's recent fiscal 4Q16 and 2016 results, the cloud ruled the company's results. Oracle's cloud SaaS (software-as-a-service) and PaaS (platform-as-a-service) revenue rose by 68% to $690 million in fiscal 4Q16. Oracle's hardware revenue fell by 7% to $1.3 billion, and its software license revenue fell by 2% to $7.6 billion in constant currency terms in fiscal 4Q16.
In fiscal 2016, Oracle reported ~$2.9 billion in cloud revenue. Oracle is making progress in the cloud space and expects 65% growth in the space in fiscal 2017. However, it's still behind its peer Salesforce (CRM), which is well on its way to clocking in $10 billion in revenue by 2018.
To keep up the pace, Oracle had no other choice than to announce a strategic acquisition in the cloud space. By acquiring NetSuite, Oracle will improve its revenue, as NetSuite's revenue is expected to be $1.2 billion in 2017.
Article continues below advertisement
Moreover, NetSuite has over 30,000 customers, the majority of which are SMB (small and mid-size companies). Thus, through NetSuite, Oracle will get access to the SMB space, which is attracting a lot of attention, as it's relatively untapped. Read Why Technology Players Are Increasing Their Focus on the SMB Space to know more.
Commenting on NetSuite's acquisition by Oracle, Bill Kreher, an analyst at Edward Jones & Co., said, "NetSuite is really pioneering cloud and this will certainly add to Oracle." Kreher added, "I think acquisitions are certainly consistent with the company's long-term pedigree and strategy. You've got to pay for that type of growth."
Oracle's recent bond deal is the third-largest deal in 2016
Moreover, in late June 2016, Oracle announced its biggest bond sale ever of $14 billion. Oracle has cash reserves of ~$56 billion. However, as is the case with a majority of companies in the technology space, Oracle's cash reserves are also held abroad.
Due to a majority of their cash being parked outside the United States, many tech companies have to resort to bond issuances to borrow for acquisitions, dividends, and buybacks. This explains why despite having significant cash, Apple (AAPL) raised $1.0 billion in Australian bonds (EWA) in June 2016.
For the same reason, despite having significant cash reserves, Microsoft (MSFT) resorted to debt to fund its latest and largest-ever acquisition of LinkedIn (LNKD).