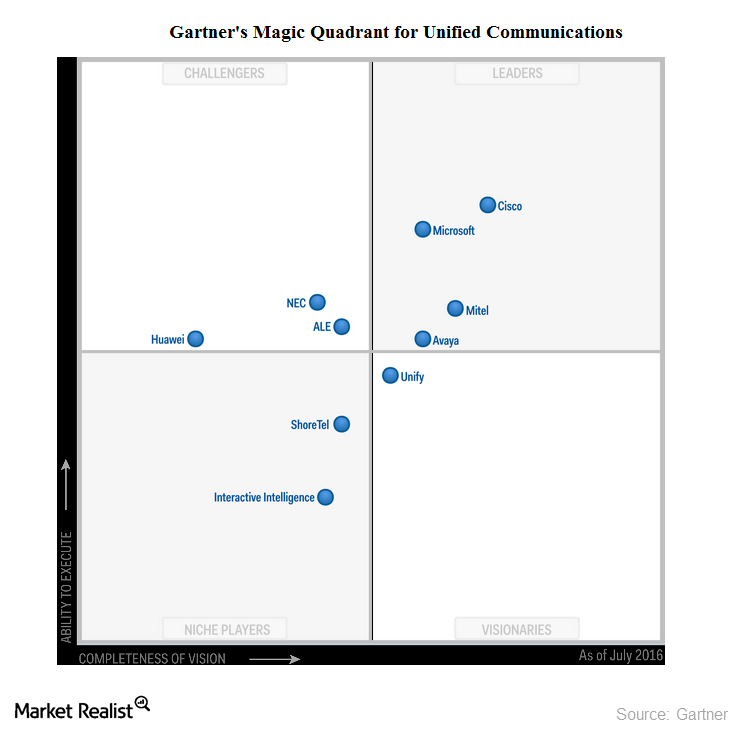 Cisco Named a Market Leader in Gartner's Unified Communications Quadrant
What is collaboration?
Collaboration helps individuals to work together and achieve a common business purpose. It provides a platform where everyone can interact in real time such as online meetings, instant messaging, or video conferencing like Skype (MSFT).
Driven by evolving communication standards and the rapid pace of business operations, enterprises aim to focus on cost-effective collaboration solutions. MarketsandMarkets expects the enterprise collaboration space to grow from $47.3 billion in 2014 to $70.6 billion in 2019.
Article continues below advertisement
Article continues below advertisement
Cisco, Microsoft and Avaya named leaders in Gartner's magic quadrant
As shown in the above chart, Cisco was named the market leader in Gartner's Magic Quadrant for Unified Communication. Gartner stated, "Cisco offers a globally scalable full UC suite, with a quality user experience across all leading mobile devices, plus strong telephony and market-leading conferencing capabilities."
The other leaders include Microsoft (MSFT), Mitel, and Avaya.
At the end of 2015, a Synergy Research report stated that Cisco (CSCO) continued to lead the market space with a share of 16%, followed by Microsoft and Avaya at 13.5% and 4.8%, respectively. Microsoft continues to lead the hosted/cloud collaboration space with a share of 27%, followed by Cisco, Verizon (VZ), Google (GOOG) (GOOGL), and Citrix.
How did Cisco's Collaboration space perform in fiscal 3Q16?
Cisco's Collaboration business saw revenues rise by 10% YoY (year-over-year) in fiscal 3Q16. Revenues in this segment rose from $972 million in fiscal 3Q15 to $1.1 billion in fiscal 3Q16.
Deferred revenues in this business segment rose by 16% YoY as well.