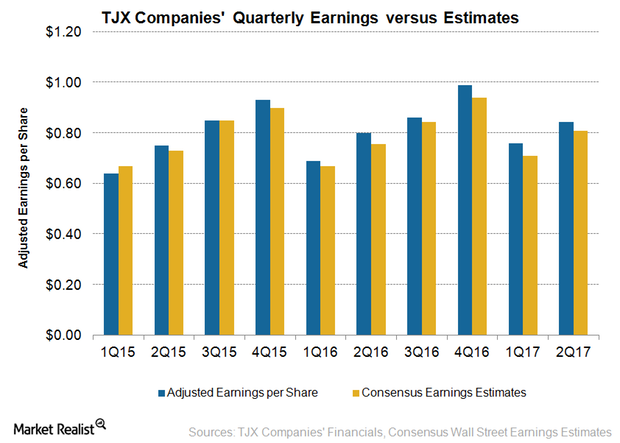 Can TJX Companies Sustain Its Earnings Growth after Fiscal 2Q17?
Strong track record
TJX Companies (TJX) exceeded its earnings estimates for the seventh consecutive quarter in fiscal 2Q17. The company delivered adjusted EPS (earnings per share) of $0.84 in fiscal 2Q17, which ended on July 30, 2016. The consensus analysts' estimate for fiscal 2Q17 EPS was $0.81.
Article continues below advertisement
What drove 2Q17 earnings?
TJX Companies's fiscal 2Q17 adjusted EPS increased by 5.4% on a year-over-year basis. This compares to a growth rate of 10.1% in 1Q17 and 6.7% in 2Q16. TJX Companies's earnings growth in 2Q17 was driven by higher sales, partially offset by wage increases and growth investments.
TJX Companies's EPS growth in 2Q17 was adversely impacted by ~3% due to wage increases. Currency headwinds had a neutral impact on its fiscal 2Q17 EPS growth compared to the company's expectation of a 2% negative impact. TJX Companies constitutes 1.4% of the iShares Global Consumer Discretionary ETF (RXI).
Rival Ross Stores (ROST) delivered adjusted EPS growth of 12.7% in the comparable second quarter. This strong growth was driven by higher sales and an enhanced operating margin. Nordstrom's (JWN) adjusted EPS fell by 28% to $0.67 in 2Q16.
Burlington Stores (BURL) is expected to report its second quarter results on August 25. Analysts expect Burlington Stores's adjusted EPS to rise by ~56% to $0.30.
Earnings outlook
Following the strong results in fiscal 2Q17, TJX Companies raised its earnings outlook for fiscal 2017. TJX expects its fiscal 2017 EPS to be in the $3.39–$3.43 range. This reflects a 2%–3% growth compared to EPS of $3.33 in fiscal 2016. The company's previous EPS guidance was in the $3.35–$3.42 range. The company expects wage increases and currency headwinds to have a negative impact of 3% each on fiscal 2017 EPS growth.
The above guidance excludes the potential adverse impact of about $0.03–$0.05 on fiscal 2017 EPS due to its pension payout. This payout will result from the company's offer to its eligible former associates of an opportunity to receive a voluntary lump-sum payout of their vested pension benefit.
The next part of this series will discuss the company's sales.