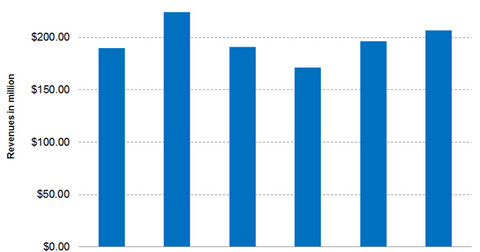 Albemarle's Bromine Specialties Segment: Why Revenue Fell in 2Q16
By Peter Neil

Updated
Albemarle's Bromine Specialties segment revenue
In 2Q16, Albemarle's (ALB) Bromine Specialties segment reported revenue of $206.9 million, representing 30.9% of Albemarle's total revenue. The segment is ALB's second-largest revenue generator.
On a year-over-year basis, the segment's revenue decreased by 7.6%, or $17.1 million. During 2Q16, the segment posted adjusted EBITDA (earnings before interest, tax, depreciation, and amortization) of $66.6 million compared to $68.7 million in 2Q15. This implies a decrease in EBITDA of 3.1% on a year-over-year basis.
In terms of margins, the Bromine Specialties segment recorded an adjusted EBITDA margin of 32.2% in 2Q16 compared to 30.7% in 2Q15. This implies that the margin increased by 1.5 percentage points on a year-over-year basis.
Article continues below advertisement
Highlights of the Bromine Specialties segment
Favorable foreign exchange translations impacted the segment's revenue by $0.9 million, or 0.4%.
A decline in sales due to a lower sales volume in methyl bromide impacted the segment's revenue negatively by $18.0 million, or 8.0%.
Favorable foreign currency impacted adjusted EBITDA by $0.8 million, or 1.1%.
An overall lower sales volume impacted adjusted EBITDA negatively by $2.9 million, or 4.2%.
Outlook for the Bromine Specialties segment
Albemarle expects a challenging environment for its Bromine Specialties segment due to a decline in demand for clear brine fluids. They're used in offshore drilling projects. It also expects lower sales of flame retardants due to seasonality.
Albemarle expects to generate good cash flow in the bromine business through working capital discipline and better cost control.
Investors can indirectly hold Albemarle by investing in the iShares Russell Mid-Cap Value (IWS), which held 0.3% of its portfolio in Albemarle as of August 9, 2016. The top holdings of IWS include Eastman Chemical (EMN), Celanese (CE), and Ashland (ASH), with weights of 0.3%, 0.27%, and 0.22%, respectively.
In the next part, we'll look into ALB's Refining Solutions segment.