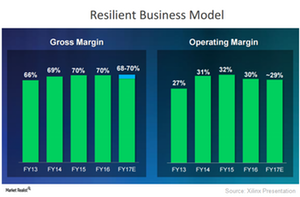 How Does Xilinx's Fabless Business Model Affect Margins?
By Puja Tayal

Updated
Xilinx's expenses likely to rise in fiscal 1Q17
In the previous part of the series, we saw that Xilinx (XLNX) expects fiscal 2017 to be a growth year after declines in fiscal 2016. However, the beginning of fiscal 2017 could be slow as it transitions to TSMC's (TSM) 16-nanometer technology. While this transition to the advanced node will likely bring cost benefits in the future, it will initially increase its operations cost.
Let's look at the expenses and profits that Xilinx is likely to report in fiscal 1Q17.
Article continues below advertisement
Gross margin
Like revenue, Xilinx expects its fiscal 1Q17 gross margin to remain flat sequentially between 69% and 70%. The company has adopted a fabless model in which it designs specialized chips and has them manufactured by third-party foundries like TSMC. Thus, a change in demand doesn't significantly impact its gross margin, as the company doesn't bear fixed costs associated with manufacturing plants. These benefits encouraged companies like Qualcomm (QCOM) and Advanced Micro Devices (AMD) to go fabless.
So why does Xilinx expect margins to fall in fiscal 1Q17?
Operating margin
In Xilinx's fabless model, a transition to the 16-nm node means an increase in the company's R&D (research and development) expenses. The company will design new products for the 16-nm node that would increase the R&D expense by 13% YoY (year-over-year), according to analysts.
In fiscal 1Q17, Xilinx expects operating expenses to rise 1.4% quarter-over-quarter, or 4.2 % YoY (year-over-year), to $220 million. This is likely to reduce the company's operating margin below 30% in fiscal 1Q17.
Xilinx attracts acquisition rumors
Xilinx's attractive margins and diversified customer base of industrial, automotive, data center, and IoT (Internet of Things) has attracted a lot of attention. Moreover, the company is at the forefront of the 5G wireless revolution.
There are many speculations that Xilinx has attracted the interests of Qualcomm, Broadcom (AVGO), and NXP Semiconductors. A report by RBC Capital stated that Xilinx is an ideal target for Broadcom but the latter's huge debt from the Avago-Broadcom merger makes any acquisition for the company unlikely at least for a year.
Even NXP is an unlikely buyer due to the huge debt burden arising from the Freescale merger. Next, we'll take a quick look at how fiscal 2Q16 has been for NXP and what investors can expect in the upcoming earnings.