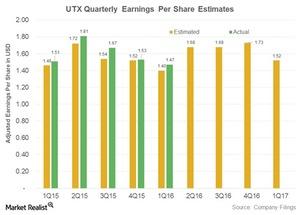 Word on the Street: Market Expectations from UTX's 2Q16 Results
By Shannon Black

Jul. 5 2016, Updated 12:59 p.m. ET
Market expectations going into UTX's 2Q16 earnings
The consensus estimate among Wall Street analysts is for United Technologies's (UTX) adjusted EPS (earnings per share) to fall by 7% year-over-year (or YoY) to $1.68 in 2Q16. The company's YoY earnings have declined for the last three consecutive quarters.
Earnings continue to be lower as Pratt & Whitney's geared turbofan engine, which took 20 years and $10 billion to develop, is currently recording a negative margin at delivery. The Pratt & Whitney segment, which serves the aerospace (XAR) end market, represented 25% of the company's annual revenues in 2015.
In 2Q16, analysts expect UTX's revenues to fall by 10.2% to ~$14.7 billion. The company had managed to eke out a marginal YoY increase in revenues in 1Q16.
Article continues below advertisement
Expectation management
United Technologies (UTX) has a consistent record of beating earnings expectations. The company's earnings have eclipsed Wall Street's estimates for the past eight consecutive quarters.
As is often the case with many companies, the company has been slightly less successful in catching up with its sales forecasts. UTX has beaten these estimates in six of the past eight quarters. This record is better than some of its aerospace (PPA) peers, such as Honeywell (HON) and Rockwell Collins (COL).
How should investors react to an earnings result?
Investors should note that large public companies are under great pressure to match their earnings forecasts. Markets often overreact to an earnings beat or a miss.
The Wall Street maxim, "The movement is over when the news is out," sums up the predicament of retail investors who have little time to assess and react to the results. Yet, a reaction to every earnings result is seldom necessary. A short-term miss that keeps its long-term opportunities intact doesn't necessarily warrant a repositioning of your portfolio.