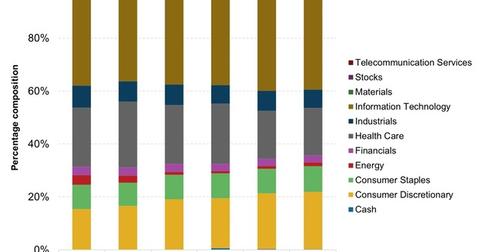 Inside the Portfolio Changes of the Fidelity Growth Company Fund so Far in 2016
By David Ashworth

Updated
Fund overview
The Fidelity Growth Company Fund (FDGRX) "normally invests primarily in common stocks of domestic and foreign issuers that Fidelity Management & Research Company (FMR) believes offer the potential for above-average growth…Growth may be measured by factors such as earnings or revenue."
The fund manager makes use of fundamental analysis, which includes factors like the financial condition and industry position of each issuer, while looking at economic and market conditions, and selecting securities for the portfolio. Investors should note that this fund is closed to new investors.
Article continues below advertisement
FDGRX's assets were invested across 398 holdings as of June 2016, and it was managing assets worth $36.6 billion at end of June. In the May portfolio, its equity holdings included NVIDIA (NVDA), Lululemon Athletica (LULU), Monster Beverage (MNST), Alnylam Pharmaceuticals (ALNY), and Skechers USA (SKX), which make up a combined 9.4% of the fund's assets.
Portfolio changes
Information technology, consumer discretionary, and healthcare are the core sectors invested in by the fund. The first two sectors make up close to 60% of the portfolio. The fund manager is not invested in the utilities sector.
FDGRX considers the Russell 3000 Growth index as its benchmark index. Compared to that index, FDGRX is noticeably overweight the information technology and energy sectors, while being sharply underweight the industrials, financials, materials and telecom services sectors.
A look at the end-of-quarter portfolios over the past three years shows an increasing affinity toward consumer discretionary stocks. In the same period, consumer staples have seen their shares decline a bit. Financials have seen their shares decline by 40%, while materials have seen their shares fall to nearly half the levels seen in the intra-period. Information technology stocks have remained in favor throughout the period.
But how has FDGRX performed YTD in 2016, and what can its performance be attributed to? Continue to the next part for this discussion.