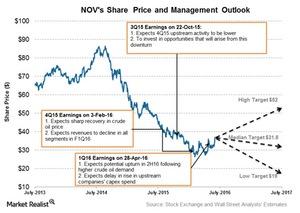 National Oilwell Varco: Management's Estimates for 2Q16
Does management see a recovery in 2016?
National Oilwell Varco's management expressed optimism about a potential crude oil production and demand revival in 2H16. Clay Williams, National Oilwell Varco's chairman and CEO, commented in the fiscal 1Q16 conference call that "While we are not planning for a recovery in 2016, we are encouraged by reports from some customers that they are beginning to think about a potential upturn in the second half of the year, as oil production is finally begun to rollover and demand continues to march upward."
Article continues below advertisement
Article continues below advertisement
In comparison, Oil States International's (OIS) management thinks that industry exploration and production spending will be lower in 2016, while offshore projects will be deferred. National Oilwell Varco accounts for 0.26% of the WisdomTree High Dividend Fund (DHS). For investors looking for some exposure to the energy sector, energy accounts for 15.3% of DHS.
Management's estimates for 2Q16
Managment expects 30% lower Rig Systems revenues in fiscal 2Q16—compared to fiscal 1Q16 due to the falling backlog. The operating margin in this segment can improve.
In the Rig Aftermarket segment, National Oilwell Varco's revenues can decline in the mid-single digit percent range. The earnings before interest, tax, depreciation, and amortization can also deteriorate due to the depressed energy market.
National Oilwell Varco's Wellbore Technologies segment revenue can fall 15%—compared to fiscal 1Q16.
National Oilwell Varco's Completion & Production Solutions segment can decrease by a mid to upper-single digit percentage, while the operating margin can decline by mid-30%—compared to a quarter ago.
Read Will Brazilian Backlog Trouble Harm NOV in 2016? to learn more about National Oilwell Varco. Next, we'll discuss the recent dividend reduction and its impact on National Oilwell Varco.