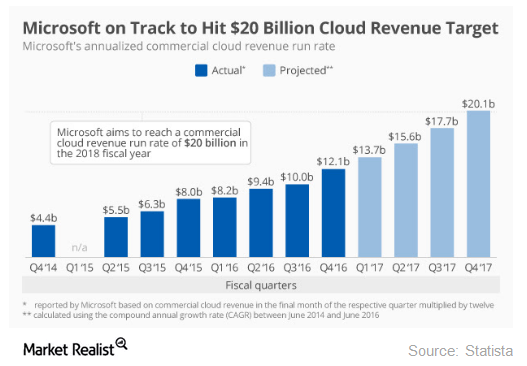 Can Microsoft Post $20 Billion in Cloud Revenue by 2018?
Azure emerged as top performer in Microsoft's fiscal 4Q16 results
Earlier in the series, we discussed Microsoft's (MSFT) cloud performance in fiscal 2016, which led the company to post better-than-expected results. Azure retained its position as a top performer in Microsoft's cloud offerings with triple-digit growth in fiscal 4Q16. Azure grew 102% in fiscal 4Q16. In constant currency terms, this growth was 108%.
IBM (IBM), which recently announced its fiscal 2Q16 earnings, stated that its cloud services revenue grew 30% to $3.4 billion while the cloud-as-a-service run rate grew 50% to reach an annual run rate of $6.7 billion. Commenting on Microsoft's fiscal 2016 performance, Satya Nadella, Microsoft's CEO, stated, "This past year was pivotal in both our own transformation and in partnering with our customers who are navigating their own digital transformations. The Microsoft Cloud is seeing significant customer momentum and we're well positioned to reach new opportunities in the year ahead."

Article continues below advertisement
Article continues below advertisement
Microsoft's current momentum in the cloud space
SaaS (software-as-a-service) is expected to be the fastest-growing cloud service through 2018. With a 13% market share, Salesforce (CRM) dominated the SaaS space in 2015, followed by Microsoft. Though Microsoft held the second position in the SaaS space, it recorded a 70% increase and was able to improve its market share in the SaaS space by three percentage points.
The cloud space is a highly concentrated and competitive space dominated by Amazon (AMZN). Amazon along with Microsoft, IBM, and Google (GOOG) (GOOGL) command more than half of the cloud space, according to Synergy Research.
Earlier in the series, we learned that Microsoft's cloud offerings grew to reach an annualized revenue run rate of $12.1 billion in fiscal 4Q16. In early 2015, Microsoft shared its goal to achieve a $20 billion revenue run rate for its commercial cloud by 2018.
Looking at Microsoft's cloud offerings growth in the previous quarter as well as its ability to sustain its momentum in the cloud space, it seems that the company is on its way towards accomplishing the goal it has set for its cloud offerings by 2018. Considering Statista estimates, Microsoft can clock in $20.1 billion in cloud revenues by fiscal 2018.