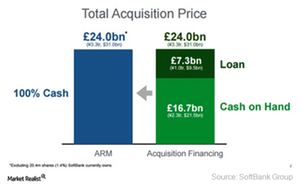 Inside the Key Financials Involved in the SoftBank-ARM Deal
SoftBank-ARM deal makes new records
The biggest semiconductor acquisition of 2016 was announced in July 2016. Japan's SoftBank offered to acquire UK-based semiconductor designer ARM Holdings (ARMH) for a cash consideration of $32 billion—the second-largest semiconductor acquisition, after Avago-Broadcom's (AVGO) $37-billion merger, according to Dealogic data. Although ARM had no intention to sell its business, it accepted SoftBank's offer.
Article continues below advertisement
Article continues below advertisement
This acquisition has made new records, attracted criticism from many analysts, and raised concerns among Intel's (INTC) investors. And the price tag has raised eyebrows of SoftBank shareholders. In this series, we'll take a closer look at the deal and read into the reactions of investors, analysts, politicians, and other semiconductor players.
Key aspects of the SoftBank-ARM deal
The SoftBank-ARM deal is the largest technology deal in the UK and the second-largest Japanese outbound deal. The deal has three key aspects:
price tag
funding
possible synergies
Article continues below advertisement
Price tag
SoftBank, a major shareholder in US telecom carrier Sprint (S), has agreed to pay $32 billion for ARM, which marks a 43% premium on ARM's closing share price on July 15, 2016. The price is 24x ARM's 2015 revenue of $1.28 billion, 20x its estimated 2016 revenue, and 57x its 2015 net income of $568 million.
The Wall Street Journal, citing sources familiar with the matter, reported that SoftBank has been eyeing ARM since 2014—and that the former reached the $32 billion price tag after raising the bid three times.
Funding the deal
Now that the price has been agreed upon, the next big challenge is how SoftBank will pay this price, because it already has a huge debt of $113 billion and pays a quarterly interest of about $1 billion.
SoftBank is expected to partially fund the deal with the $17 billion in funds it raised by divesting some of its stakes in China's Alibaba (BABA) and Finland's Supercell. It plans to raise new debt to the tune of $10 billion to fund ARM acquisition.
But the idea of new debt was not welcomed by SoftBank shareholders. It even brought Chief Executive Officer Masayoshi Son's investment strategy and risk taking habit into criticism. In response, Masayoshi Son said, "If the investors do not like it, they will sell. I am the largest shareholder in SoftBank (19% stake). I share the same interest as the other shareholders."
Now let's try to understand what makes Masayoshi Son so confident about ARM acquisition.